New Route of the Day – Americas (22 August 2023): Atlantic Airways between Vagar and New York SWF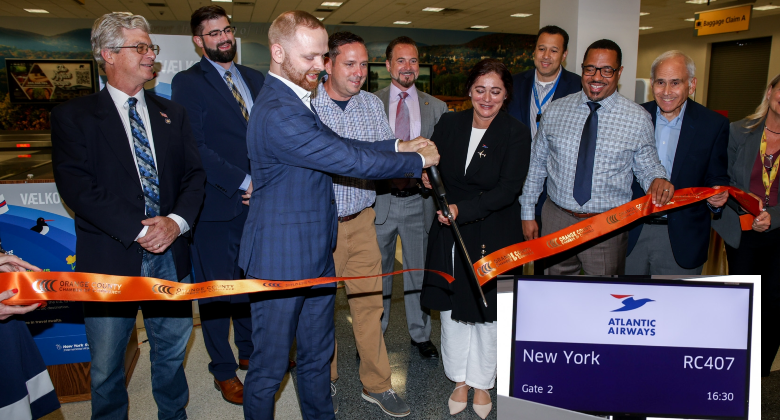 The flag carrier of the Faroe Islands, Atlantic Airways, launched a limited weekly service between Vagar, the only airport in the country situated on the island that bears the same name, and New York SWF on Tuesday 22 August. The 4,865-kilometre service marks the first time Atlantic Airways has flown to the United States, as well as its first long-haul operation. Flights will be maintained only until 19 September with the 168-seat A320neo aircraft. There is no other operator between the two countries.
Flight RC407 departs Vagar at 16:30 local time, arriving in New York SWF at 18:50 local time. The return service, operating as flight RC408, departs Stewart International Airport on Wednesdays at 10:45 local time, arriving back in the Faroe Islands at 22:05 local time.
What they said
Johanna a Bergi, CEO at Atlantic Airways, said: "We are very excited about this new historic route between the Faroe Islands and the US. Interest for this new route is very high on both sides of the Atlantic."
Kevin O'Toole, Chairman of the Port Authority of New York and New Jersey, added: "Offering nonstop service to the Faroe Islands is a historic first not just for New York Stewart, but for the nation. In recent years, the Port Authority has steadily invested in New York Stewart's transformation to an attractive, modern destination with a brand-new customs hall and unique, competitive choices for both domestic and international travellers. We look forward to our partnership with Atlantic Airways."
Atlantic Airways now serves ten destinations
The Faroe Islands are located in the North Atlantic Ocean and are an autonomous territory of Denmark. It boasts a population of just over 54,000. This August, Atlantic Airways will grow its route network to ten destinations with the addition of New York SWF. It serves Aalborg, Barcelona, Billund, Copenhagen, Edinburgh, Reykjavik, Oslo, Paris CDG and Palma de Mallorca. Out of those, the majority are summer seasonal flights, with Billund, Copenhagen, Oslo and Reykjavik being the only year-round fixtures in its network.
Atlantic Airways operates a fleet of four aircraft, including two A320s and two A320neos. In addition, the carrier also maintains a two-member fleet helicopter service for transportation between the islands.
Vagar Airport handled 406,453 passengers in 2022. This year, the airport has 564,506 seats on scheduled flights, an increase of almost 5% on 2022. Apart from Atlantic Airways, the airport is served by SAS from Copenhagen and Wideroe from Bergen in Norway.