New Route of the Day – Americas (22 June 2023): PLAY between Reykjavik and Hamilton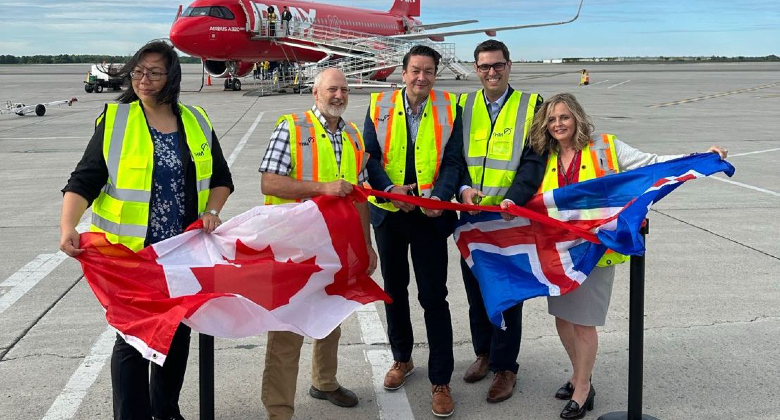 PLAY has entered the Canadian market with the launch of its new daily service between Reykjavik and Hamilton near Toronto on Thursday 22 June. The 4,240-kilometre route will be maintained with the 214-seat A321neo. The LCC faces no competition between the two cities.
Flight OG201 departs from Reykjavik's Keflavik Airport at 15:20 local time, arriving in Hamilton at 16:40 local time. The return service, operating as OG202, takes off from the Canadian city at 18:00 local time, arriving in Iceland at 04:45 local time the following morning. The flights have been timed to offer connections onto PLAY's European network in both directions.
What they said
Birgir Jonsson, CEO of PLAY, said: "Making our first flight out of Toronto is a huge milestone for PLAY. We have been working on launching this destination for a long time and I am so proud to see the hard work of my fellow PLAY colleagues come to fruition. Everywhere we go, we strive to offer the lowest prices. We are going to give the competition in Toronto a run for their money, which will ultimately benefit the good people of the Toronto area who now can use the affordable way to go to Iceland and onwards to Europe."
Cole Horncastle, Executive Managing Director at Hamilton Airport, added: "We are excited to have PLAY join Hamilton International Airport network and bring connectivity to over 26 exciting European destinations, via Iceland. PLAY's low-cost 'pay for what you need' model aligns perfectly with Hamilton International's commitment to bring more travel options and affordable airfares to passengers in Southern Ontario and continue to drive economic benefits for the city and the region."
PLAY now serves five cities in North America
Hamilton joins Boston, Baltimore, New York SWF and Washington IAD as PLAY's fifth destination on the North American continent. While the carrier faces no direct competition on its first Canadian route, it competes indirectly against both Icelandair's 14-weekly and Air Canada's 4-weekly flights between Reykjavik and Toronto YYZ.
Europe flights return to Hamilton
Hamilton Airport is 85 kilometres from central Toronto and 115 kilometres from Buffalo, New York. It is also the closest Canadian airport to Niagara Falls and is nearer to other big Ontario cities, like London and Kitchener,
PLAY's service from Reykjavik marks the first time that Hamilton has had regular Iceland flights. However, the Canadian airport is no stranger to European routes. It had them as recently as 2019, when Norwegian operated Dublin-Hamilton (max 4-weekly) between March and September using 737-800s.
Hamilton's primary European operation was by FlyGlobespan, which served the airport between 2007 and 2009, having ended Toronto YYZ in 2006/2007. Hamilton had flights from 12 airports across the UK and Ireland: Belfast BFS, Birmingham, Doncaster Sheffield, Dublin, Edinburgh, Exeter, Glasgow, London LGW, Liverpool, Manchester, Newcastle and Shannon. It was also a time when SATA operated Terceira-Hamilton-Oakland.