New Route of the Day – Americas (24 August 2023): JetBlue between New York JFK and Amsterdam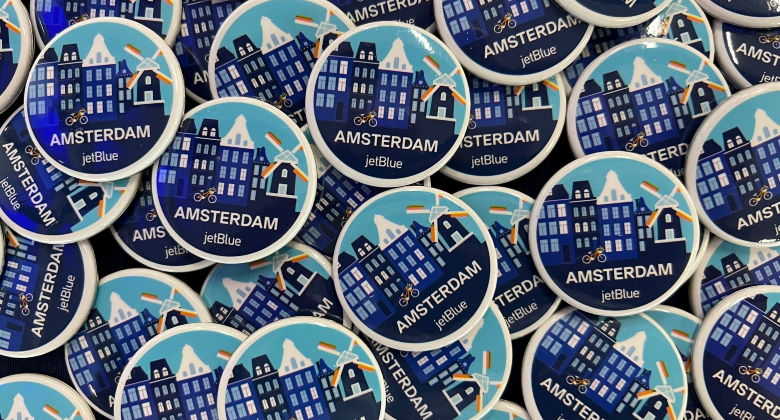 Check out the inaugural arrival at Schiphol Airport
HERE!
JetBlue introduced its fourth European destination on Tuesday 29 August by launching flights between New York JFK and Amsterdam. The 5,865-kilometre route will be maintained daily with the 138-seat A321neo aircraft. The airline will compete against the KLM - Delta joint venture on the route, with the Dutch carrier maintaining 18-weekly flights, while its US partner operates a 14-weekly service.
Flight B62288 departs New York JFK at 22:00 local time, arriving in Amsterdam at 11:35 local time the following morning. The return service, operating as flight B62289, takes off from the Dutch city at 13:25 local time, touching back down in the US at 16:25 local time.
What they said
Robin Hayes, CEO at JetBlue, said: "JetBlue's transatlantic service has proven to lower fares and benefit customers in markets that have suffered for decades from high fares by legacy carriers. We look forward to introducing our award-winning Mint and core service to business and leisure customers traveling to and from Amsterdam."
Ruud Sondag, President and CEO at Amsterdam Schiphol Airport, added: "It is a pleasure to welcome JetBlue to Amsterdam Airport Schiphol and their contribution to Schiphol's network. Most importantly, with JetBlue deploying their new Airbus A321neo LR aircraft, they contribute to noise reduction and sustainability efforts."
JetBlue continues transatlantic expansion
JetBlue's New York JFK -Amsterdam service becomes the carrier's sixth transatlantic route.
New York JFK – London LGW (daily)
New York JFK – London LHR (two-daily)
New York JFK – Paris CDG (daily)
Boston – London LGW (daily)
Boston – London LHR (daily)
JetBlue will further expand operations between the US and Europe with the introduction of daily flights between Boston and Amsterdam on 20 September. However, the carrier will trim its Boston - London LGW service throughout September and most of October, as well as the majority of January 2024.
Upon the introduction of the new Boston - Amsterdam route, JetBlue will boast 56-weekly departing flights from the US to Europe with 8,036 seats available in each direction.