New Route of the Day – Americas (24 August 2023): Lynx Air between Toronto YYZ and Los Angeles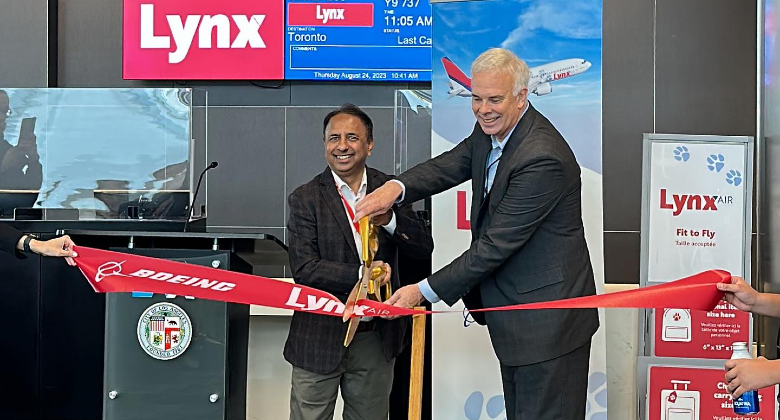 Canadian ULCC Lynx Air introduced flights between Toronto YYZ and Los Angeles on Thursday 24 August. The 5-weekly, 3,500-kilometre route will be maintained on Mondays, Wednesdays, Thursdays, Fridays and Sundays with the 189-seat 737 MAX 8 aircraft. It will compete directly against 32-weekly Air Canada flights and 4-weekly rotations maintained by WestJet.
What they said
Merren McArthur, CEO of Lynx Air, said: "Toronto is our fastest growing hub because it has historically been underserved by low-cost carriers and that means airfares have been too high for too long. Lynx Air aims to change that. We are proud to be the only low-cost carrier offering services between Toronto and the City of Angels. Whether you are travelling to do some star-spotting in Hollywood, or to soak up the sun on one of the iconic Southern California beaches, Lynx will ensure a great flying experience at an ultra-affordable price."
Janik Reigate, Director for Strategic Customer Relationships at the Greater Toronto Airports Authority, noted: "We are pleased to see Lynx add LAX to their roster of destinations served from Toronto Pearson. This new service will undoubtedly provide passengers with another greater option to fly to sunny California."
Justin Erbacci, CEO of Los Angeles World Airports, added: "We are thrilled to have Lynx Air expand its service at LAX with the addition of the new route between LAX and Toronto, one of our most popular destinations in Canada. This route not only strengthens the ties between our two cities, but it also reinforces our commitment to serving our passengers' needs and offering an exceptional travel experience. We congratulate Lynx Air and look forward to the airline's continued success."
Lynx Air launches US expansion from Toronto
The new service to Los Angeles marks Lynx Air's US expansion in the lead-up to the fall and winter. The airline already operates flights between Toronto YYZ and Orlando MCO and will soon add another three routes in the US to its Toronto network.
12 October: Phoenix (3-weekly)
16 November: Tampa (4-weekly)
14 December: Fort Myers (4-weekly)
By December, Lynx Air will fly more than 22,000 seats per week across its North American network to and from Toronto, representing an increase of 260% over the previous year. It will operate a total of six destinations in the US, which is the only international market served by the ULCC outside of its home in Canada.