New Route of the Day – Americas (24 February 2023): Lynx Air between Calgary and Las Vegas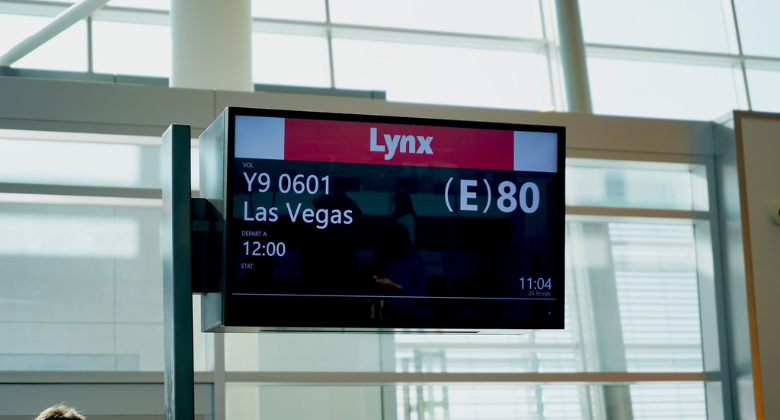 Lynx Air (IATA code Y9) on 24 February introduced flights between its hub in Calgary and Las Vegas. The 4-weekly service operates each Monday, Wednesday, Friday and Sunday. The airline deploys a B737 MAX aircraft on the 3,130-kilometre route. Flight Y9601 departs Calgary at 08:00 local time, arriving in Las Vegas at 10:10 local time. Flight Y9602 is scheduled to take off from Las Vegas at 11:20 local time, landing in Calgary at 15:17 local time.
What they said
Merren McArthur, CEO of Lynx, said: "We are excited to launch our first flight to Las Vegas today, offering an affordable option for Canadians to visit the Entertainment Capital of the World. Las Vegas is a very popular holiday destination for Canadians, and it's no wonder! From vibrant nightlife and high-end shopping to tours of one of the Seven Wonders of the World, there is something for everyone in Vegas. Whether you are travelling to experience some world-class entertainment, or to try your luck at the casinos, Lynx will ensure a great flying experience at an ultra-affordable price."
Carmelle Hunka, Vice President, External Affairs, ESG, Enterprise Risk & General Counsel for the Calgary Airport Authority, noted: "In less than one year, Lynx Air has expanded its route offerings out of Calgary Airport to include three of the most popular US destinations. These exciting new routes are a testament to the tremendous success Lynx has seen in its Calgary Airport operations. We are thrilled with the strength of our collaboration and look forward to continuing to support Lynx's growth and expansion."
Lynx Air grows US operations
Lynx embarked on its US expansion in late January and has already added Toronto YYZ – Orlando MCO, Calgary – Phoenix and Calgary – Los Angeles to its network. With the addition of Las Vegas, Lynx will be operating over 5,000 seats to and from the US.
The ULCC faces significant competition on its new Calgary – Las Vegas route, with five other carriers maintaining flights between the two cities.
Air Canada: 14-weekly
WestJet: 6-weekly
Swoop: 5-weekly
Flair Airlines: 3-weekly
Canada Jetlines: 3-weekly