New Route of the Day – Americas (24 October 2023): Arajet between Santo Domingo and Toronto YYZ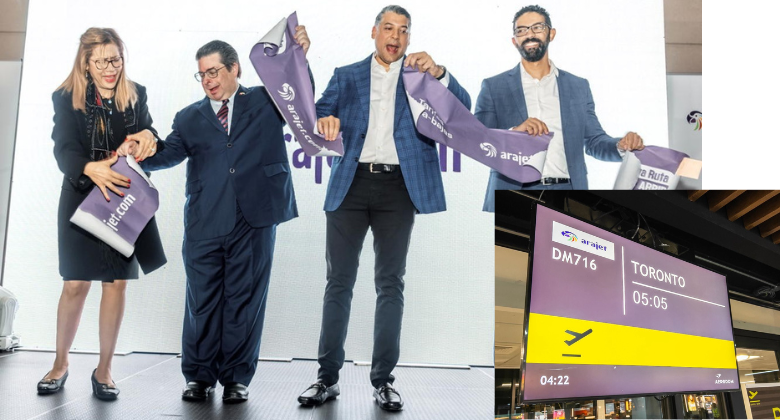 The national carrier of the Dominican Republic, Arajet, introduced flights between its hub, in Santo Domingo, and Toronto YYZ on Tuesday 24 October. The 2,950-kilometre service will be maintained 4-weekly on Tuesdays, Wednesdays, Fridays, and Saturdays with the 737 MAX 8 aircraft. The carrier faces no competition on the route.
Flight DM716 departs Santo Domingo at 06:00 local time, arriving in Toronto YYZ at 10:40 local time. The return service, operating as flight DM717, takes off from Canada's largest city at 12:10 local time, touching back down in the Dominican capital at 16:40 local time.
What they said
Victor Pacheco, Founder and CEO of Arajet, said: "Today, Arajet makes history by being the first Dominican airline to fly to Canada, providing new opportunities to grow business and tourism between our two nations. Arajet also establishes Santo Domingo as an exciting new hub on the continent for Canadians, connecting them to more than 10 countries in the Americas, such as Brazil, Argentina, Chile, Curacao, Aruba, and Colombia, with a low fare airline that does not compromise on customer service and experience."
Frank Hans Dannenberg, Ambassador of the Dominican Republic to Canada, added: "The inauguration of this new air route by Arajet is not only a business achievement, but also a significant step in the interconnection between Canada and the Latin American region, as it will strengthen the mobility between Canadians and Dominicans, at competitive prices."
Khalil Lamrabet, Chief Commercial Officer of the Greater Toronto Airports Authority, noted: "The new route will link Toronto Pearson to a new level of connectivity in Central and South America. It's just another way we are working to increase travel options for the millions of passengers who pass through our airport every year."
Arajet enters Canadian market
Arajet's Toronto launch comes after the governments of Canada and the Dominican Republic signed an open skies agreement in February to remove restrictions for airlines from the two countries. The bilateral air transport deal aims to ease the rules on frequency and routes in which carriers are operating.
The airline will further expand its operations to Canada with the introduction of 4-weekly flights between Santo Domingo and Montreal on 7 November.
Toronto becomes Arajet's 22nd destination, with the fast-growing carrier launching operations just a year ago. It now serves 16 countries, most of which are in South America. The airline expects to carry more than seven million passengers in the next five years through its Santo Domingo hub, aiming to position itself as a transfer carrier between the Americas and the Caribbean. It currently boasts a fleet of 5 737 MAX 8 jets with a further 26 on order.