New Route of the Day – Americas (25 April 2022): Swoop between Edmonton and Ottawa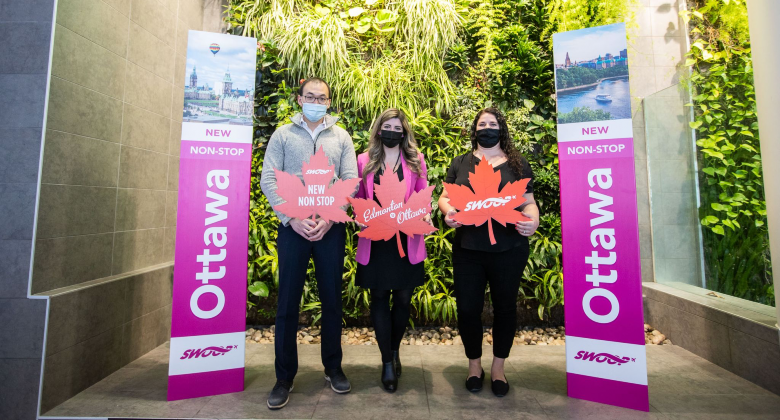 Swoop (IATA code WO) launched its first service to Ottawa (in Ontario) on Monday 25 April. The Canadian capital is now being served 3-weekly (Mondays, Wednesdays and Fridays) from Edmonton (in Alberta) by WestJet's low-cost subsidiary. The 2,860-kilometre route is already served 3-weekly by low-cost rival Flair Airlines (who launched the route last June). Swoop will increase frequency to 5-weekly in July and August, while Air Canada will resume its daily service on the route on 1 June, using its A220-300s.
What they said
Bert van der Stege, Head of Commercial and Finance, Swoop, said: "Today's inaugural service to Ottawa marks the first of many new routes for Swoop this summer, and we're thrilled to be celebrating this non-stop connection between Edmonton, our Western Canada base, and Ottawa, our nation's capital. We're proud to be connecting more Canadian travellers to key destinations across the country with our ultra-affordable and convenient air travel options. At a time when the demand for air travel is reaching unprecedented heights, we know these new routes will play an important role in helping Canadians reconnect with friends and family this summer and assist in the recovery of the tourism economy."
Joel Tkach, VP Business Development and Marketing, Ottawa International Airport Authority, added: "We are delighted to welcome Swoop to Canada's capital. YOW's passengers are looking for the flexibility and choice Swoop offers, and our tourism partners are ready to showcase the exceptional experience Ottawa-Gatineau offers now that domestic travel recovery in Canada is in full swing."
Myron Keehn, VP Air Service and Business Development, Edmonton International Airport, added: "Non-stop service to our national capital is a priority and I want to thank Swoop for providing more options for passengers. Service to Ottawa is important for our business community but as summer approaches we look forward to tourism opportunities going in both directions and welcoming visitors to our region and Jasper."
Two more routes to Ottawa starting in June
Swoop is planning to add service from both Halifax (in Nova Scotia) and Winnipeg (in Manitoba) to Ottawa from 19 June. The 960-kilometre Halifax route is set to operate daily, while flights on the 1,690-kilometre Winnipeg sector will be offered 4-weekly, on Mondays, Thursdays, Fridays and Sundays.