New Route of the Day – Americas (25 March 2023): United between Newark and Dubai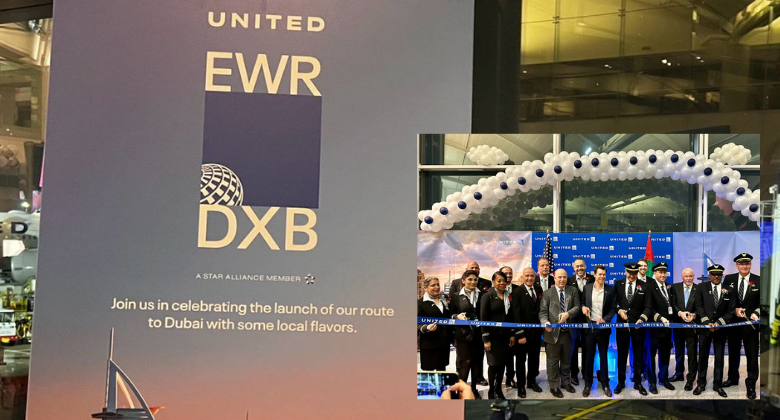 United introduced a new long-haul service from its hub at New York EWR to Dubai on Saturday 25 March. The 11,030-kilometre route will be maintained daily with the 777 aircraft. United becomes the first airline since 2016 to connect the two airports with a nonstop service. Emirates, which will codeshares on United's new flights, maintains operations between Dubai and Newark via Athens.
Flight UA164 departs Newark at 21:40 local time, landing in Dubai at 19:05 the following day. The inbound service, operating as flight UA163, takes off from Dubai at 01:55 local time, arriving in Newark at 08:45 local time.
What they said
Scott Kirby, CEO at United, said: "United's new flight to Dubai and our complementary networks with Emirates will make global travel easier for millions of our customers, helping boost local economies and strengthen cultural ties. This is a proud moment for both United and Emirates employees, and I look forward to our journey together."
United and Emirates launch wide-ranging partnership
One-time foes, United and Emirates unveiled their partnership agreement last November. The two airlines will soon codeshare on over 200 of each other's flights pending regulatory approval. United will place its codes on 27 destinations beyond Dubai, while Emirates will do so on 272 routes from United hubs across the United States in the first phase of their cooperation agreement. flydubai is also seeking approval to enter into a codeshare partnership with United.
United previously served Dubai from Washington IAD but ended flights in early 2016. Dubai joins Tel Aviv as United's only other destination in the Middle East from Newark. Overall, it is only the third point served by United in the Middle East, the other being Amman in Jordan, which is flown from Washington IAD. On the other hand, Emirates serves eleven points in the United States and maintains daily operations to United's hubs in Chicago ORD, Houston IAH, Los Angeles, San Francisco and Washington IAD.