New Route of the Day – Americas (25 May 2023): United between Chicago ORD and Shannon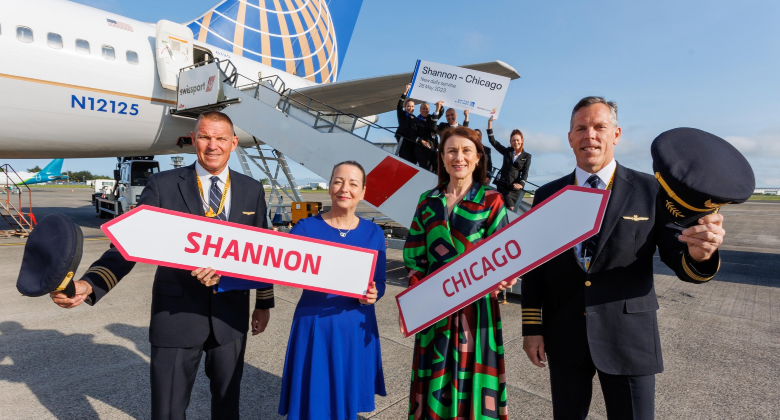 United added another seasonal route to Ireland on Thursday 25 May by launching flights between its hub Chicago ORD and Shannon. The 5,780-kilometre service will be maintained daily with the 757 aircraft and without any competition. It marks United's return on the route for the first time since 2017.
Flight UA288 departs Chicago at 18:20 local time, arriving in Shannon at 07:30 local time the following morning. The return service, operating as UA289, takes off from the Irish city at 09:30 local time, touching back down at O'Hare International Airport at 11:45 local time.
What they said
Martina Coogan Country Sales Manager for Ireland at United, said: "As the only US airline to offer direct flights from Shannon, we are excited to see this further expansion of our route network from Ireland to the US. We expect another busy summer for international travel in 2023 and are proud to build on our industry-leading global network to offer our customers in the west of Ireland even greater travel choice and the possibility to connect via our US hubs to other destinations across the Americas."
Mary Considine, CEO at Shannon Airport Group, added: This is a significant boost for Shannon Airport, and we are delighted to have this direct daily seasonal service to Chicago back serving the transatlantic market. United Airlines are a valued airline partner at Shannon and this service shows the continued appeal of Shannon and the West of Ireland. Chicago is an important U.S. gateway and is a really positive addition to the daily services we already offer from Shannon to New York, Boston and Newark. With a seat capacity of over 42,000, this strategic Chicago route not only benefits leisure and tourism travellers, but this direct service also provides important additional business connectivity for our customers."
United only US carrier serving Shannon
United now serves Shannon from two cities in the US. In addition to Chicago ORD, the airline also operates daily seasonal flights from New York EWR with its 757 aircraft. The carrier is the only one from the US to serve the Irish city and the only Star Alliance member flying out of Shannon.
Chicago ORD becomes Shannon's fourth long-haul service, as well as fourth destination in the US. In addition to United's two routes, Aer Lingus maintains flights to Boston and New York JFK.
Shannon traffic rebounds
In 2022, Shannon Airport saw over 1.5 million passengers, achieving 88% of its 2019 pre-pandemic figures. During the first quarter of this year, numbers continued to improve and overtake those from four years ago.
Shannon is currently served by four carriers on a scheduled basis. Besides United they include Aer Lingus, Ryanair and Vueling, however, the latter will discontinue its sole Paris ORY service on 14 June.