New Route of the Day – Americas (25 May 2023): United between Washington IAD and Berlin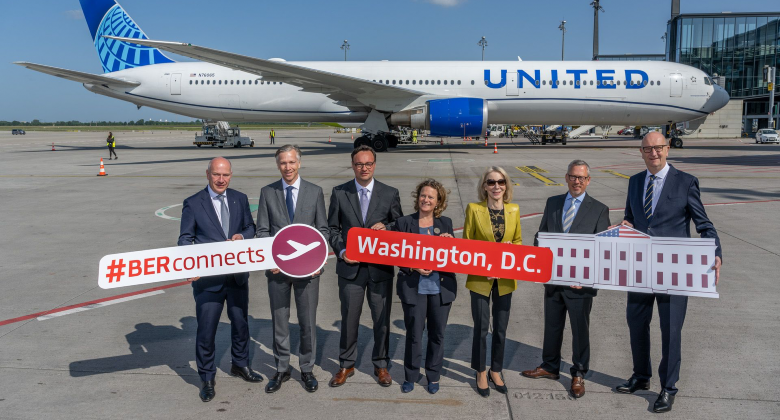 United has added a seasonal so-called "capital to capital" service with the introduction of flights between Washington IAD and Berlin on Thursday 25 May. The 6,765-kilometre route will operate daily with 767-400 aircraft. The Star Alliance member faces no direct competition on the route, with Delta being the only other US carrier operating to the German capital by inaugurating seasonal flights from New York JFK on the same day. United also maintains year-round New York EWR – Berlin flights.
Flight UA234 departs Washington IAD at 17:45 local time, arriving in Berlin at 08:20 local time the following morning. The inbound service, operating as UA235, takes off from the German capital at 11:10 local time, touching back down in the US at 14:30 local time.
What they said
Aletta von Massenbach, CEO at Berlin Airport, said: "With the new non-stop connection from BER to Washington, DC, the two capital regions are only around nine hours apart. With this second connection to the east coast of the US, United Airlines is significantly expanding its commitment to BER. The BER-Washington connection helps to further strengthen cooperation and tourism between Germany and the USA, and strengthens the attractiveness of the Berlin-Brandenburg region as a business location."
Thorsten Lettnin, Director Sales Continental Europe, Middle East, Africa, India and Israel at United, added: "As the only airline connecting Berlin with Washington, D.C., we are excited to launch this new capital-to-capital service. The new route compliments perfectly our offer from BER adding besides New York/Newark also the US capital on the list of nonstop flights. Furthermore, our passengers will have comfortable connections via these two hubs to more than 60 cities in the US. With this new route, we are offering the most flights from Germany to the United States in our history, with up to 18 daily flights and almost 5,000 seats per day from Germany to our U.S. hubs this summer season. For our customers in Germany, this means even greater travel choice and the possibility to connect via our US hubs to other destinations across the Americas."
United becomes largest carrier between US and Europe
United is adding a number of new destinations in Europe this summer, securing its position as the largest carrier between the United States and the Old Continent. During the height of S23, United will offer almost 100 daily departures from the US to Europe. In addition to new routes, the airline ha increased frequencies on existing services to cities such as Barcelona, Edinburgh, Naples and Rome FCO.
Apart from Washington, United also offers nonstop flights to Germany from Chicago ORD, Houston, Denver, New York EWR and San Francisco. The Star Alliance member now operates more flights to Germany than any other US carrier.