New Route of the Day – Americas (28 October 2022): United between San Francisco and Brisbane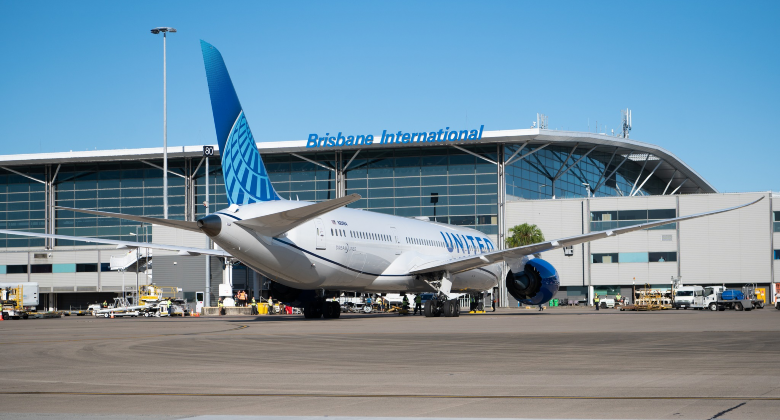 United launched a new route between the US and Australia when it commenced service between San Francisco and Brisbane on Friday 28 October. The inaugural flight of UA96 departed the Californian airport at 23:45 and arrived in the Queensland city 13 hours and 41 minutes later, at 06:26 on Sunday 30 October, according to flightradar24.com. The 3-weekly service will be flown using the Star Alliance carrier's 787-9s. The sector length is 11,370 kilometres making it United's 13th longest non-stop service this winter, well behind the 13,820-kilometre route between Houston IAH and Sydney. Flights on this new route will depart the US on Wednesdays, Fridays and Sundays. Flights will depart Australia on Tuesdays, Fridays and Sundays.
What they said
Gert-Jan de Graaff, CEO, Brisbane Airport Corporation, said: "In 1928, Sir Charles Kingsford Smith and his crew became the first to fly across the Pacific from San Francisco to Brisbane. 94 years later, the route they pioneered will now deliver thousands of tourists to Queensland. That first pioneering journey took 83 hours and 38 minutes. Now it's a 13 hour 45 minute flight. And the historic Southern Cross aircraft sits opposite our International Terminal where United Airlines docked this morning."
Patrick Quayle, SVP of Global Network Planning and Alliances at United, added: "We are delighted to work with the Queensland Government and Brisbane Airport Corporation to launch new non-stop flights between Brisbane and San Francisco – becoming the first US airline to add a new transpacific destination to its global network since the start of the pandemic. United has a long history in Australia, and with our new partnership with Virgin Australia, now is the ideal time to expand our service and offer additional convenient flight options to our customers on both sides of the Pacific."
Sixth route to Australia this winter
This new service to Brisbane becomes United's sixth route to Australia this winter. The others are:
Houston IAH – Sydney: 3-weekly now (daily in November 2019)
Los Angeles – Melbourne: 3-weekly (4-weekly)
Los Angeles – Sydney: daily (daily)
San Francisco – Melbourne: daily (3-weekly)
San Francisco – Sydney: daily (daily)
As a result, United is now offering 30 weekly flights between the US and Australia compared with 28 in November 2019. While the number of flights is up just 7%, seat capacity is up 18%.
For comparison, Qantas has 31 weekly flights (down from 47), American and Delta both have seven (no change), Hawaiian Airlines has five (down from nine) and Jetstar Airways has five (down from six). Virgin Australia has none (down from 14). Overall, the number of weekly flights has fallen from 118 to 85 (28% down), while seat capacity has fallen by 36%.