New Route of the Day – Americas (29 June 2023): JetBlue between New York JFK and Paris CDG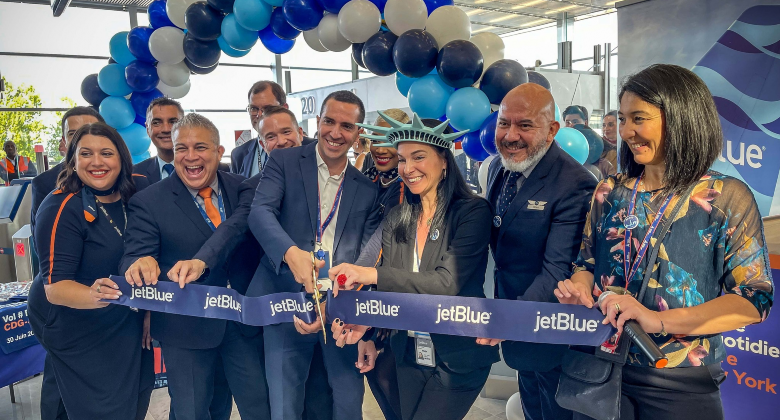 JetBlue launched another transatlantic service on Thursday 29 June by inaugurating flights between New York JFK and Paris CDG. The 5,850-kilometre service will operate daily with the 138-seat A321LR aircraft. Paris CDG becomes JetBlue's third destination in Europe following London LHR and London LGW, with Amsterdam to follow on 29 August.
Flight B61047 departs New York JFK at 17:09 local time, arriving in Paris CDG at 06:55 local time the following morning. The inbound service, operating as flight B61048, takes off from the French capital at 08:55 local time, arriving back in the US at 11:51 local time.
What they said
Robin Hayes, CEO at JetBlue, said: "JetBlue's arrival into Paris is poised to disrupt the market once again with our award-winning service and low fares, bringing a fresh and innovative choice in transatlantic flying to a new European audience. We look forward to continuing to prove that customers don't have to compromise great service for a low fare. We are excited to bring our highly acclaimed Mint and Core onboard service to both business and leisure customers traveling to and from Paris."
Regis Lacote, Managing Director at Paris Charles de Gaulle Airport, added: "This special occasion marks a significant milestone in our ongoing efforts to offer the best connectivity to travellers worldwide, especially in North American markets. I salute the collective mobilisation of the Paris CDG airport community to support the first steps of JetBlue, who we thank deeply for choosing the ADP Group for its new European route from New York."
JetBlue faces strong competition
JetBlue enters a competitive field on the New York JFK - Paris route, competing against another four airlines. Together, the five carriers are operating 83 weekly flights and have more than 46,000 two-way seats between the two airports. Air France holds over half of all available capacity, at 55.5%, followed by partner Delta with a 21.7% share. New entrant Norse holds 10.3% of the market, while American has an 8.3% capacity share. JetBlue has 4.3% of all seats between the two cities.
In addition, both Air France and United fly between Paris CDG and New York EWR twice per day, while French Bee and La Compagnie operate between Paris ORY and New York EWR daily and six-weekly respectively.
Paris - New York is the second largest city pair between Europe and the US, preceded only by London - New York. There are over 64,000 two-way weekly seats between the French capital and the largest city in the United States.