New Route of the Day – Americas 3 (1 March 2022): Spirit between Orlando MCO and Ponce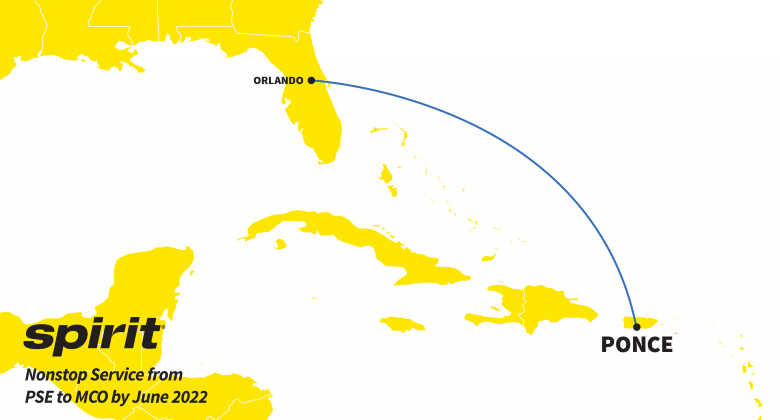 Spirit on 1 March launched flights to its third destination in Puerto Rico. The ULCC now connects Orlando MCO and Ponce with daily flights using A319s, although the inaugural flight was operated by one of the airline's A320neos. Competition on the 1,900-kilometre route comes from JetBlue, which first started service on the route in May 2007 and is currently serving the market 5-weekly, increasing to daily in April. Ponce's only other scheduled service is also with JetBlue, to New York JFK. This route was started back in June 2005 but was suspended once the pandemic took hold. According to Cirium data, the route will resume properly on 27 March 2022 after briefly operating over the Christmas and New Year period from 20 December 2021 to 3 January 2022.
Spirit also serves San Juan and Aguadilla
Located on the south of the island of Puerto Rico, Ponce Airport is some 80 kilometres from both San Juan (IATA code SJU) and Aguadilla (IATA code BQN), which are both on the northern side of the island. Known locally as Mercedita International Airport, the airport serving Ponce is named after Mercedes, the wife of Juan Serrallés, who created the original aerodrome so that he could irrigate his sugarcane fields from the air.
This summer, Spirit will be operating 14 routes (and 122 weekly flights) to Puerto Rico, up from seven routes (and 68 weekly flights) in the summer of 2019. Apart from the Ponce route, it will also be serving Aguadilla from Fort Lauderdale, Orlando MCO and Philadelphia, and San Juan from 10 airports on the US mainland. Four of the San Juan routes are from airports in Florida (Fort Lauderdale, Miami, Orlando MCO and Tampa) while the other services are from Atlantic City, Baltimore/Washington, Boston, New York EWR, New York LGA and Philadelphia.
As a result, Spirit is now the second biggest carrier at Luis Muñoz Marín International Airport (the full name of the airport serving San Juan and named after Puerto Rico's first democratically elected governor) in terms of seats, with around 15% of the market, beaten only by JetBlue, which has 30% of the market.