New Route of the Day Americas (30 April 2023): WestJet between Calgary and Tokyo NRT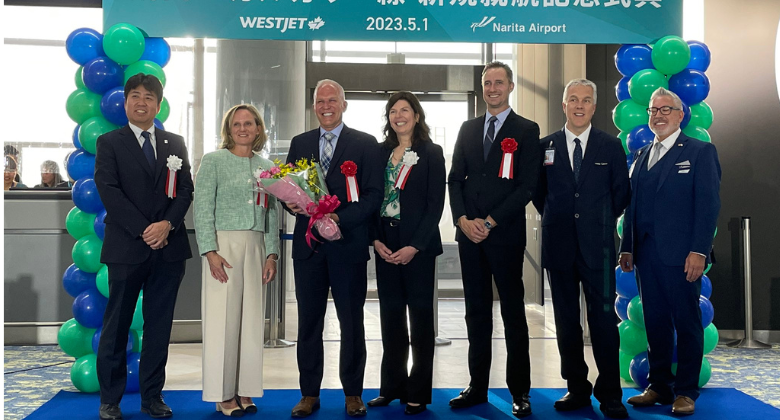 WestJet has introduced its first destination in Asia by launching seasonal flights between its hub in Calgary and Tokyo NRT on Sunday 30 April. The 7,970-kilometre service will be maintained 3-weekly, on Mondays, Fridays and Sundays departing Calgary, and on Mondays, Tuesdays and Saturdays from the Japanese capital. WestJet faces no competition on the route, which was last served by Air Canada in 2019. Services will be maintained with the 320-seat 787-9 aircraft.
What they said
 John Weatherill, Executive Vice President and Chief Commercial Officer at WestJet, said: "We are thrilled to see our new service to Tokyo, Japan take flight as we welcome our newest destination to our 787 intercontinental hub at YYC. Not only does this new route increase opportunities for business, leisure and cargo customers to expand their horizons in Asia, it also provides an exceptional opportunity to welcome transpacific leisure and business travellers direct to Calgary and Alberta."
Rob Palmer, Vice President, Commercial, Strategy and Chief Financial Officer for the Calgary Airport Authority, added: "We are delighted about WestJet's new flight between Calgary and Tokyo. "YYC Calgary International Airport is proud to be the first impression of Alberta's western hospitality for many travellers coming to explore the region from Asia. As WestJet's sole connecting global hub, the airline has been a key part of YYC's success. We look forward to continuing to support our partners' growth, and welcoming travellers from around the world."
David Goldstein, Chief Executive Officer of Travel Alberta, noted: "For decades, Japanese travellers have had a special relationship with Alberta. The Calgary-Tokyo flight represents an important opportunity to rebuild that bridge. This new flight will deliver approximately $1.1B in potential tourism income and 24,000 passenger seats. We look forward to welcoming back this important international market to our beautiful province."
WestJet to serve eight long-haul routes
 WestJet is serving 107 airports this quarter, with 84 Calgary routes. The airline has decided to base its entire fleet of 787-9 aircraft in Calgary from which it plans to further develop its long-haul operations. It comes as a result of an agreement between the airline and the government of the province of Alberta, of which Calgary is the largest city. The two sides aim to jointly develop flying from Calgary with an emphasis on long-haul routes.
With the addition of Tokyo NRT, WestJet now serves six long-haul routes with a further two to come. The airline maintains operations from Calgary to Dublin, London LGW, London LHR, Paris CDG and Rome FCO. The remaining two long-haul routes set to launch in S23 are both in Europe
6 May: Barcelona (3-weekly)
17 May: Edinburgh (3-weekly)
WestJet faces no competition on any of its intercontinental services with exception to London LHR which is contested by Air Canada.