New Route of the Day – Americas (30 October 2023): Air France between Paris CDG and Raleigh-Durham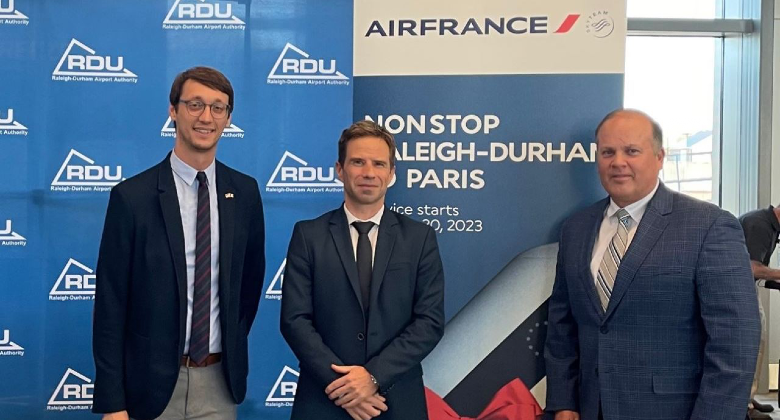 Air France inaugurated flights between Paris CDG and Raleigh-Durham in North Carolina on Monday 30 October, replacing its partner Delta, which has maintained the service since 2016 until its French counterpart took over. The 6,520-kilometre route will be maintained 3-weekly, on Mondays, Wednesdays, and Fridays, with the 279-seat 787-9 aircraft. The carrier faces no competition.
Flight AF692 departs Paris CDG at 13:30 local time, arriving in Raleigh-Durham at 16:35 local time. The return service, operating as flight AF693, takes off from the North Carolina airport at 18:45 local time, touching back down in the French capital at 08:25 local time the following morning.
What they said
Eric Caron, General Manager for North America at Air France-KLM, said: "We are thrilled to begin operating the direct route from North Carolina's Raleigh-Durham International Airport to Paris-Charles de Gaulle Airport. The route will be Air France's 14th gateway this winter in the United States, providing even more connectivity and ease of access between the transatlantic market. Whether the final destination is Paris or going beyond through Air France's wide global network, we look forward to welcoming travellers on board soon."
Michael Landguth, President and CEO of the Raleigh-Durham Airport Authority, added: "Triangle-area travellers embraced RDU's nonstop service to Paris when it launched in 2016 and have made it one of their favourite international destinations. We welcome the arrival of Air France and the opportunities it provides to connect more travellers from our region with Paris and destinations in Europe, India and beyond."
Air France builds US network to 14 destinations
France's flag carrier is operating to 14 gateways in the US during W23/24 from its Paris CDG hub. In addition to Raleigh-Durham, these include Atlanta, Boston, Chicago ORD, Dallas, Detroit, Houston, Los Angeles, Miami, New York JFK, New York EWR, San Francisco, Seattle, and Washington IAD. In total, the airline maintains 145 departing flights to the US with 44,722 weekly seats available on the market in each direction.
Air France boasts the most weekly flights to the US between Paris CDG and New York JFK - a total of 35, followed by Los Angeles with 19-weekly rotations, Atlanta with 18-weekly services and Washington IAD with 11.
Since the summer of 1999, Air France and Delta have had a long-standing alliance. The two SkyTeam members formed a transatlantic joint venture in 2007. When combined, the two provide about 600 weekly flights between North America and Europe.
Air France becomes Raleigh-Durham's 15th carrier
Air France is the latest to join Raleigh Durham's growing portfolio of airlines, as it becomes increasingly popular with carriers from Europe. In addition to Air France, Icelandair began operations to Raleigh-Durham last year, while Lufthansa will inaugurate flights from Munich to the North Carolina airport on 6 June, 2024.
Although Delta is Raleigh-Durham's largest carrier in terms of the number of weekly flights operated this winter, averaging at around 370 weekly departures, American holds the greatest capacity share, with 49,450 outbound seats, followed by Delta with 45,578. The largest non-US carrier operating out of Raleigh-Durham is Air Canada with 14-weekly flights and just over 1,060 weekly seats.