New Route of the Day – Americas (31 August 2023): Lynx Air between Montreal and Las Vegas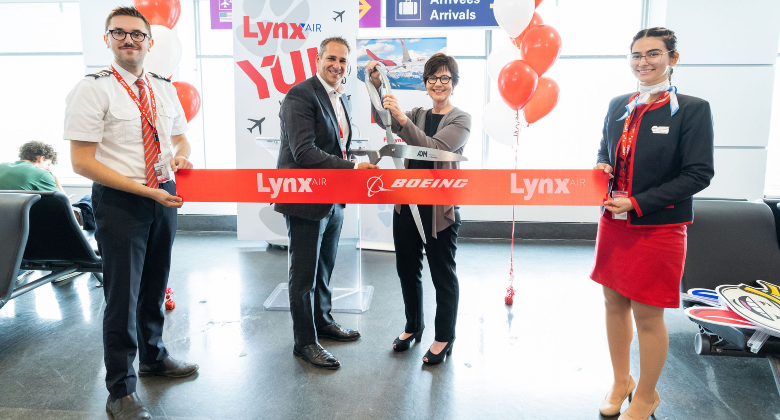 Lynx Air launched flights between Montreal and Las Vegas on Thursday 31 August, in the lead-up to the busy US Labor Day holiday travel period. The 3,600-kilometre route will be maintained 4-weekly on Mondays, Thursdays, Fridays and Sundays with the 189-seat 737 MAX 8 aircraft. It will compete directly against daily Air Canada flights.
Flight Y9612 departs Montreal at 16:00 local time, arriving in Las Vegas at 18:30 local time. The return service, operating as flight Y9709, takes off from the Nevada airport at 12:45 local time, touching down in Canada at 18:30 local time.
What they said
Merren McArthur, CEO at Lynx Air, said: "Montreal is one of our fastest growing markets because it has historically been underserved by low-cost carriers. We are happy to serve the demand for more options when it comes to air travel from Montreal residents. We are proud to be the only low-cost carrier offering services between Montreal and Las Vegas. Whether you are travelling to experience world-class entertainment, hike the surrounding national parks, or to try your luck at the casinos, Lynx will ensure a great flying experience at an ultra-affordable price."
Stephane Lapierre, Vice President of Airport Operations and Air Services Development at operator ADM Aeroports de Montreal, added: "ADM Aeroports de Montreal is delighted that Lynx Air has added Las Vegas to its list of destinations. It's a new gateway to Nevada: concerts, shows and great restaurants are all excellent reasons to head for the entertainment capital of the world! By adding this route to its service offering, Lynx Air continues to develop the market for low-cost flights from Montreal, which will undoubtedly appeal to both business and leisure travellers."
Lynx Air to grow US network from Montreal
Las Vegas has become Lynx Air's first US destination from Montreal with plans to further grow its network from Canada's second largest city during the upcoming winter season with the addition of another two routes.
2 November: Orlando MCO (4-weekly)
17 November: Tampa (4-weekly)
The pair will complement the carrier's expansion into the US from Toronto, Vancouver and Calgary throughout November.
By this December, Lynx Air will offer more than 8,000 seats per week across its North American network to and from Montreal. Lynx Air added Montreal to its expanding network just six months ago.
Montreal Airport sees full recovery
Montreal-Trudeau International Airport handled just over 12 million passengers during the January - July period, representing an increase of 2.2% on the pre-pandemic 2019 and an improvement of 48.2% on the same period last year. International operations are fuelling the growth, with the airport handling just over 8.3 million travellers on international segments, up 8.3% on 2019. However, recovery on the Canadian domestic market is still lagging behind with Montreal processing over 3.7 million passengers on flights within the country, down 9.2% on four years ago. Transborder passenger volumes to and from the US have also completely recovered, growing 2.1% compared to 2019 to 2.7 million, according to the airport's own statistics.