New Route of the Day – Americas (31 May 2022): Air Canada between Montreal and Seattle-Tacoma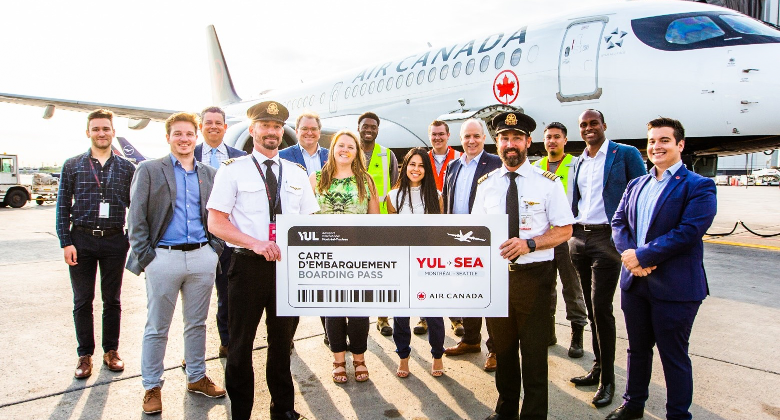 Air Canada chose Tuesday 31 May as the launch date for its new international service from Montreal to Seattle. Flights on the 3,680-kilometre route will operate daily using the Canadian carrier's 137-seat A220-300s. Flight AC515 departs Canada's second-largest city at 19:55 local time arriving in Seattle at 22:57 local time the same day, after a scheduled flight time of just over six hours. Flight AC514 departs Seattle at 07:30 local time and arrives in Quebec at 15:30 local time, with a scheduled flight time of five hours. As a result, the inaugural service from Seattle to Montreal was on 1 June. No other carrier connects these two airports with non-stop service.
Montreal becomes the seventh Canadian destination served non-stop from Seattle, joining Calgary (served by Alaska Airlines and WestJet), Edmonton (Alaska Airlines), Kelowna (Alaska Airlines), Toronto (Air Canada), Vancouver (Air Canada, Alaska Airlines and Delta) and Victoria (Alaska Airlines).
What they said
Lance Lyttle, SEA Airport Managing Director, said: "After a pandemic delay, we are delighted to finally inaugurate this non-stop service from SEA to Montreal. Air Canada has been a valued airline partner for us at SEA for many decades, and we are grateful for their continued investment in our market. As the COVID recovery continues, demand for international air travel this summer is surging and travelers in our region are eager for this flight."
Lisa Pierce, VP Canada & USA Sales for Air Canada, added: "Seattle is an extremely popular destination, appealing to Canadians and global customers alike who enjoy the leisure activities, recreation, arts and culture, tourism, and hospitality the Puget Sound area is renowned for. With customer interest in travel resuming post-pandemic, we are thrilled to launch our services connecting Seattle to our Montreal hub, complementing our flights from Seattle to Vancouver and Toronto. In addition to enabling Canadians and global visitors to come to visit Seattle, our flights also make it especially convenient for area residents to visit and enjoy everything Canada has to offer, or to connect internationally beyond at our hub airports."
Mia Yen, Consul General of Canada, noted: "The Consulate General of Canada in Seattle welcomes Air Canada's first non-stop Seattle-Montreal passenger route is a much-needed flight for the growing number of business and leisure travelers between our two cities. The route will make it easier for Puget Sound area business leaders to connect with the innovative and vibrant business ecosystem in Montreal; the second-largest city in Canada, third-largest aerospace cluster in the world, and the largest concentration of high-tech industry in Canada. It also gives convenient access for Montrealers to all the attractions this great city and region has to offer."