New Route of the Day – Americas (31 May 2023): United between New York EWR and Malaga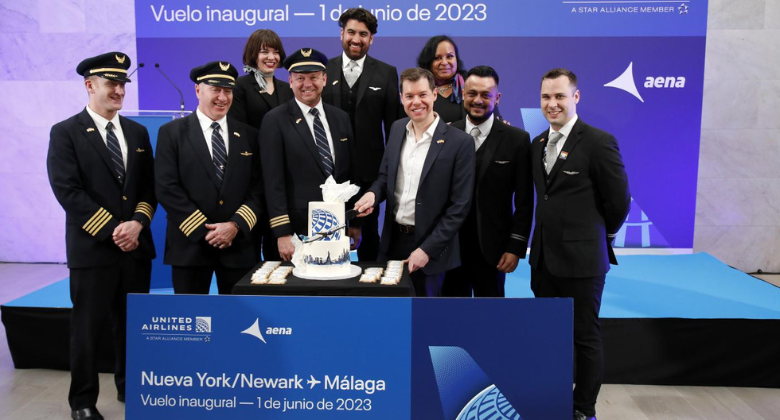 United has continued to expand its footprint in Europe with the introduction of seasonal flights between New York EWR and Malaga on Wednesday 31 May. The 5,920-kilometre service will be maintained 3-weekly on Mondays, Wednesdays and Fridays with the 169-seat 757 aircraft. The Star Alliance member faces no competition on the route.
Flight UA350 departs New York EWR at 17:55 local time, arriving in Malaga at 07:35 local time the following morning. The return service, operating as UA351, takes off from the Spanish city on Tuesdays, Thursdays and Saturdays at 09:40 local time, touching back down in the Big Apple at 12:15 local time.
What they said
Patrick Quayle, Senior Vice President, Global Network Planning and Alliances at United, said: "As the only airline connecting Malaga to the United States, we are excited to launch this new service to our New York/Newark hub. Over the past six years, we have greatly invested in our transatlantic network, now serving more destinations than all other US airlines combined. Furthermore, it's the first time in our nearly 100-year history that we can say we're the largest airline across the Atlantic. The most important thing is to work on the New York – Malaga route and when this flight settles, we will be able to add more capacity in the market."
Malaga becomes United's fifth destination in Spain
United has operated services to Spain since 1991. In addition to new flights between New York EWR and Malaga, the airline offers nonstop operations from its New York hub to Barcelona, Madrid, Palma and Tenerife, from Washington IAD to Barcelona and Madrid, as well as a new seasonal service from Chicago ORD to Barcelona launched on 26 May.
United offers the largest number of destinations in Spain out of any other North American carrier. It is the only US airline serving Malaga, Palma and Tenerife. The Star Alliance member carried just over 468,700 passengers on its Spain operations last year on over 2,182 flights.
Four years since New York last served
United's new service between New York EWR and Malaga marks the first time the two cities have been connected with nonstop flights since September 2019, when Delta last served the route on a daily basis. In total, during S23, United will offer 17,000 seats between the city pair and operate a total of 52 flights.
The US is Malaga's main non-European source market based on the number of overnight stays. In the first four months of this year, almost 50,000 Americans spent the night in the city, which represents an increase of 20% compared to the pre-pandemic 2019. The region of Andalusia, of which Malaga is a part of, has the third largest number of US visitors in the country each year after Catalonia and Madrid.