New Route of the Day – Americas (4 October 2022): Contour between Philadelphia and Altoona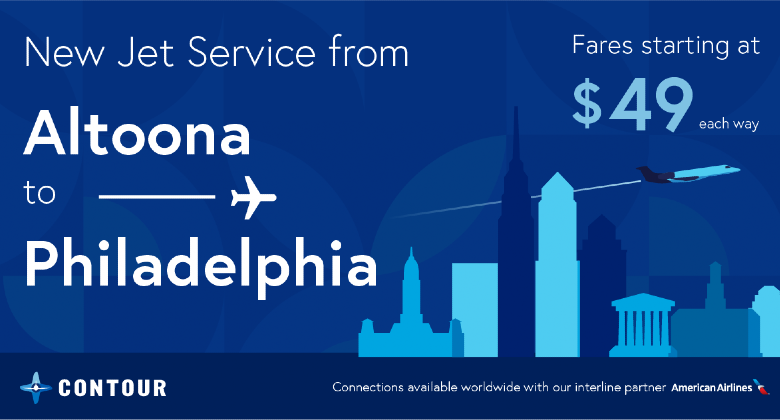 Contour Airlines (IATA code LF) has started service between two airports in Pennsylvania, Philadelphia and Altoona. The 270-kilometre route will be flown 12-weekly using the airline's ERJ-135s. There are two flights each day except on Tuesdays and Saturdays when there is just a single daily service. The first flight was on Tuesday 4 October.
Previously, Altoona had been served by Boutique Air, which offered 13-weekly service to both Baltimore/Washington and Pittsburgh using Pilatus PC-12s with just eight seats. The last flight for these two routes was on Friday 30 September. For Altoona the new Contour service represents an increase in total weekly capacity, as well as a move to jet services. The route is operated as part of the US Essential Air Service (EAS) programme.
The airport lies around 25 kilometres south of Altoona close to the borough of Martinsburg, which has a population of fewer than 2,000 people. Altoona itself, in Blair County, has a modest population of fewer than 50,000 people. It was founded in 1849 by the Pennsylvania Railroad as a location for maintenance works. Nowadays healthcare is a major employer in the city.
Third Contour route at Philadelphia
Altoona becomes Contour's third route from Philadelphia, as it already serves Ogdensburg and Plattsburgh in the state of New York. Both of these routes are also served 12-weekly, with Tuesdays and Saturdays again having just a single service.
With the addition of Altoona to its network, Contour now serves 22 airports in October according to Cirium data. Nashville, with 38 weekly departures is the airline's busiest airport, followed by Philadelphia (with 36). In total, the airline offers around 300 weekly departures, with Tuesdays and Saturdays being its quietest days for flights. All services are flown using the airline's fleet of 10 30-seat ERJ-135s and two ERJ-145s.