New Route of the Day – Americas (5 August 2021): WestJet between Calgary and Amsterdam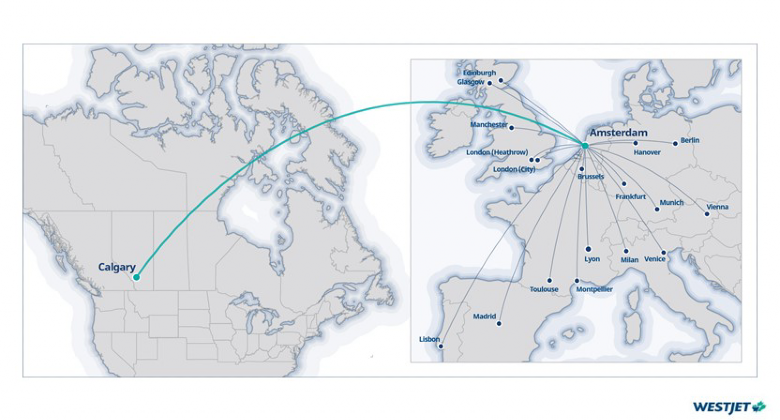 After a long period of severely restricted operations, Canada's WestJet launched a new transatlantic route on Thursday 5 August between Calgary in the province of Alberta and Amsterdam. Initially operating 2-weekly, frequency is set to increase to 3-weekly from 9 September. KLM already connects the two airports with 6-weekly service. The two carriers have a codeshare agreement enabling convenient access to 18 destinations across Europe.
The inaugural service on the 7,190-kilometre route (flight number WS 20, operated by a Boeing 787-9 registration C-GYRS) departed Calgary at 21:05 local time and arrived in Amsterdam just under eight hours later at 13:00 local time the following day. The return flight (WS21) departed the Dutch hub at 16:13 local time and arrived back in Alberta just over eight hours later at 16:19 local time.
WestJet launched European flights in 2014
WestJet launched long-haul flights to Europe in June 2014, with service between St. John's and Dublin. Halifax to Glasgow service was added in May 2015. The following summer saw six more European routes added including the first European route from Calgary to London LGW. In 2019, Dublin and Paris CDG were added to WestJet's Calgary network. The carrier currently has a fleet of six 787-9s which are each configured with 320 seats. Apart from this new route to Amsterdam, Cirium Data and Analytics shows the carrier operating this September to Gatwick from Calgary and Toronto, as well as from Calgary to Paris CDG.
What they said
John Weatherill, WestJet's CCO, said: "We continue to invest in our global hub in Calgary, where we have the most departures, destinations and seats and we're thrilled to see today's flight take-off as we continue to rebuild our transatlantic network. This route between Calgary and Amsterdam provides greater access between Canada and European destinations for travellers on both sides of the Atlantic and is strengthening travel and tourism ties between our two countries."