New Route of the Day – Americas (5 January 2022): United between Denver and Butte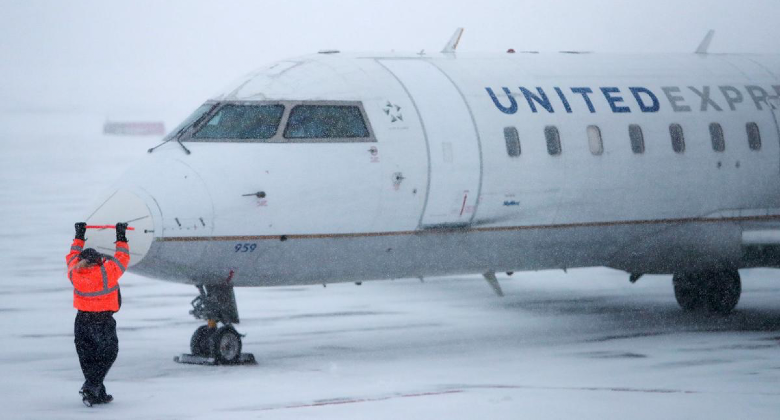 United became just the second airline to serve Butte in Montana when it began daily service from Denver on 5 January. As can be seen from the pictures, it was a cold and snowy day at Bert Mooney Airport, named after an aviator from the 1930s who was the first to fly mail into Yellowstone National Park. This new 930-kilometre route will be operated by SkyWest's 50-seat CRJs. Delta has been Butte's only airline for the last 15 years operating 2-daily non-stop flights to Salt Lake City in Utah, a sector length of 575 kilometres. Ironically, that service is also operated by SkyWest using CRJs.
The last time Butte had a second carrier was in 2008 when Alaska Airlines offered flights from Bozeman in Montana, using Q400s operated by its regional subsidiary Horizon Air. The carrier had also flown to Butte from Seattle-Tacoma until the end of March 2006. As a result of the new United service to Denver, Delta has reduced frequency on its Utah service to just daily.
Butte is famous for being a mining city. In the early part of the 20th century, it was the biggest producer of copper in North America. However, by the early 80s all copper mining had ceased. In recent years the economy has been based around energy companies and healthcare. Butte is also famous as the birthplace of legendary motorbike stunt rider "Evel" Knievel.
What they said
Pam Chamberlin, Manager, Bert Mooney Airport, said: "The Butte airport is thrilled to announce service to Denver on United Express. Having another destination is an excellent opportunity for our passengers. We are extremely appreciative of SkyWest providing this service to our community. SkyWest Airlines is proud to continue providing quality BTM service."