New Route of the Day – Americas (15 July 2023): Avianca between San Salvador and Las Vegas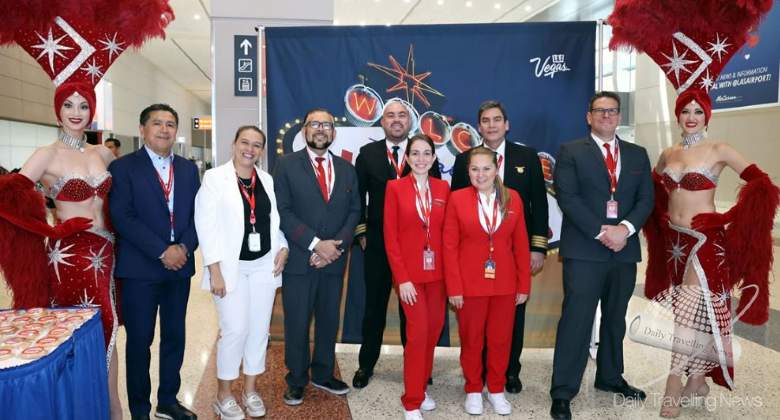 Avianca on Saturday 15 July launched a new seasonal service between the capital of El Salvador, San Salvador and Las Vegas. The 3,620-kilometre service will be maintained 3-weekly on Tuesdays, Thursdays and Saturdays, until 19 September, with the 180-seat A320neo aircraft. It faces no competition on the route. Avianca becomes the first airline to offer a non-stop connection between San Salvador and Las Vegas.
Flight AV526 departs San Salvador at 09:00 local time, arriving in Las Vegas at 13:25 local time. The inbound service, operating as flight AV527, takes off from the Nevada airport at 14:45 local time, touching back down in the El Salvadorian capital at 20:50 local time.
What they said
Rolando Damas, Sales Director for North America, Central America and the Caribbean at Avianca, said: "We are pleased to introduce the new seasonal route from Las Vegas to San Salvador, which is aligned with our strategic plan to open 50 new nonstop routes in three years. Avianca remains committed to providing our valued passengers with convenient and direct travel options to their desired destinations and are especially excited to offer the Las Vegas Latino community increased opportunities to meet and reconnect with their loved ones."
Federico Anliker Lppez, President of the El Salvador Autonomous Port Executive Commission, added: "It fills me with pride to see that day by day our country is positioning itself as an important international destination for tourism, commerce and different logistics operations. Today, we take another step forward in our international connectivity and accompany Avianca, one of our strategic partners, to announce the opening of the new direct route, El Salvador-Las Vegas."
San Salvador's US capacity exceeds one million seats
The market between San Salvador and the US has grown considerably. According to Cirium schedules information data, there are 1.12 million one-way seats in S23, exceeding the milestone for the first time. Capacity has nearly doubled in the past decade, with the US now accounting for more than one in two available seats.
With more than 2.5 million Salvadorians - those of birth or heritage - in the US, the market is mainly focused on the visiting friends and relatives. This summer, seven airlines have non-stop service between the two countries. With nearly two-thirds of seats (63.4%), Avianca and Volaris dominate.  The growth is primarily because of the two airlines. These increases more than offset big declines by United, American, and Delta. These changes have seen US operators reduce from having more than half of the market (55.0%) to just over a third (+35.9%).
San Salvador is Avianca's second largest hub
Avianca has put an emphasis on developing San Salvador as its second hub behind Bogota in Colombia. In addition to the new Las Vegas route, the Star Alliance carrier recently launched its first long-haul service from El Salvador to Madrid. In total, the airline now operates flights to 21 destinations from San Salvador to Central America, South America, Mexico, the United States, Canada and Spain.