New Route of the Day – Americas (5 July 2023): Emirates between Dubai and Montreal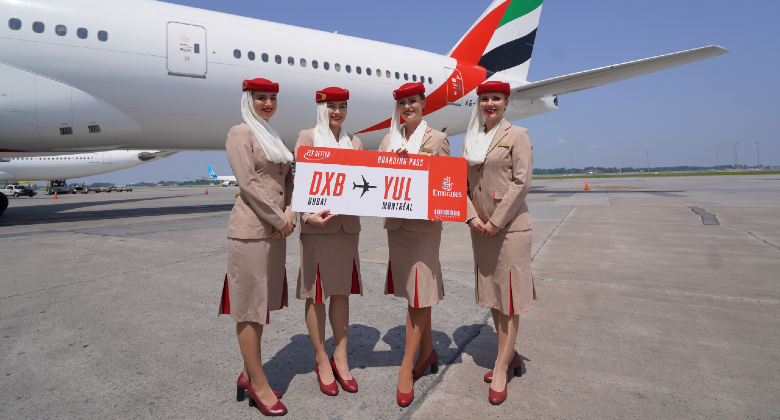 Emirates has commenced operations to its second destination in Canada by launching flights between Dubai and Montreal on Wednesday 5 July. The 10,640-kilometre service will be maintained daily with the 354-seat 777-300ER aircraft. The airline faces no competition on the route.
Flight EK243 departs Dubai at 02:30 local time, arriving in Montreal at 08:00 local time. The inbound service, operating as flight EK244, takes off from the Canadian airport at 10:20 local time, touching back down in the United Arab Emirates at 06:30 local time the following day.
What they said
Adnan Kazim, Chief Commercial Officer at Emirates, said: "Complementing our services to Toronto, customers will now have more choice when planning trips to Canada - they now can fly directly to the country's second largest metropolis whether for business, leisure, education or for visiting family and friends. Since we announced our plans to launch direct services to Montreal, we have witnessed healthy bookings from travellers planning trips to Canada from points in the UAE, India, Iran and Lebanon in addition to many Far East and African countries. The strong demand is testament to the quality of our product and travel experience we provide. We look forward to welcoming our customers onboard to experience our "fly better" proposition across all classes."
Philippe Rainville, President and CEO of airport operator ADM Aeroports de Montreal, added: "ADM Aeroports de Montreal is delighted to welcome one of the world's most prestigious airlines to YUL for the first time. This is an exceptional opportunity for our passengers to live the Emirates experience on a flight that will take them nonstop to the majestic city of Dubai. For an international airport like ours, this is particularly exciting news, especially since this route will offer arrivals and departures at less busy times of the day. It's very much in line with ADM's goal of offering more connections to popular destinations outside of peak travel times. We are very privileged that Emirates has chosen YUL as the second Canadian airport for its operations in the country."
Dubai and Canada will have 25-weekly flights
Emirates' new service to Montreal, only its second destination in Canada, was made possible thanks to the expansion of the air transport agreement between Canada and the UAE earlier this year, which enables more flight options and routings between the two countries. With this expanded agreement, there will be capacity for 21-weekly flights for each country, permitting 50% more operations than the maximum number previously possible. Canada still has restrictive agreements in place with a number of nations around the world, seen as a way of shielding its flag carrier Air Canada from competition.
Emirates' expansion in Canada follows a partnership agreement with Air Canada, with the latter to commence 4-weekly flights between Vancouver and Dubai on 28 October. As a result, the two will maintain a total of 25-weekly flights between Dubai and Canada. Alongside the new services, the two also run daily flights between Dubai and Toronto YYZ.