New Route of the Day – Americas (5 June 2023): British Airways between London LHR and Cincinnati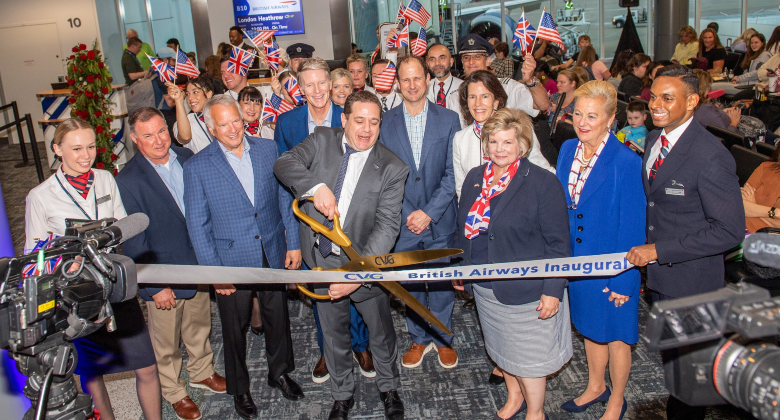 British Airways introduced its latest destination in the United States on Monday 5 June by adding flights between London LHR and Cincinnati. The 6,380-kilometre service will be maintained 5-weekly on Mondays, Tuesdays, Wednesdays, Fridays and Sundays, using the 214-seat 787-8 aircraft. The oneworld member faces no competition on the route. London and Cincinnati were last linked in 2009, when Delta maintained a weekly rotation between the US city and London LGW.
Flight BA121 departs London Heathrow at 16:05 local time, arriving in Cincinnati at 19:45 local time. The return service, operating as flight BA122, takes off from the Kentucky airport at 21:30 local time, touching back down in the UK at 10:15 local time the following morning.
What they said
Neil Chernoff, Durector of Networks and Alliances at British Airways, said: "When we look at the Cincinnati region we see a vibrant part of the US with a great mix of business and leisure travellers who have long asked for more international service and global connectivity, which is what made it so attractive to us and why we're confident this new route will be a success. Our incredibly positive and welcoming conversations with the airport team, the business development community and tourism partners - combined with all the region has to offer visitors from outside the US - were a clear sign that Cincinnati was the right place to expand our flying in America."
Candace McGraw, Chief Executive Officer of Cincinnati Airport, added: "We are thrilled this day has come when CVG has non-stop service to and from London Heathrow. This flight offers tremendous growth opportunities for business travel, economic development, and tourism between the UK and our region. We are grateful to our partners in Ohio and Kentucky who have supported this flight that will benefit travellers for years to come. I offer a personal thanks to our new friends at British Airways for this opportunity."
British Airways now serving 27 destinations in the US
British Airways will offer 2,140 weekly seats on this new service and is the second carrier to operate scheduled flights between Europe and Cincinnati, complementing Delta's Paris CDG route. Heathrow has been the most demanded unserved long-haul market from the Kentucky airport. British Airways now maintains over 300 transatlantic flights per week for a total of 27 US destinations.
Cincinnati closes in on pre-pandemic traffic
Cincinnati has the biggest metro population of any Ohio city. While the city is in Ohio, the airport serving it is in Kentucky. Hence the official name of the facility is Cincinnati/Northern Kentucky International Airport. According to the airport's own statistics, Cincinnati ended March (the most recent month with available data) with 1.82 million total passengers. That was almost 20% more than the same period in 2022 but was still 6.5% fewer than in 2019. A full recovery is expected by the end of the year, with new routes by American and Breeze, in addition to British Airways.