New Route of the Day – Americas (5 June 2023): Lynx Air's new routes from Montreal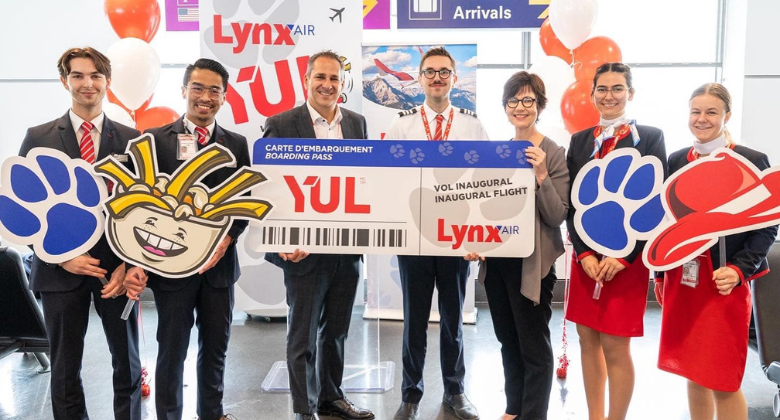 Lynx Air (IATA code Y9) on Monday 5 June introduced operations from Montreal for the first time with flights to Calgary and St. John's. Both the 3-weekly 3,015-kilometre service to Calgary and the 4-weekly 1,625-kilometre route to St. John's will be maintained with the 737 MAX aircraft.
The ULCC faces significant competition on its Calgary operations going up against 27-weekly Air Canada flights, 16-weekly WestJet rotations, daily Air Transat flights and a 4-weekly Flair service. There will be fewer challengers on the St John's route with Air Canada maintaining 19-weekly flights between the two cities.
What they said
Merren McArthur, CEO of Lynx Air, said: "We are thrilled to be adding Montreal to our domestic network today, bringing our ultra-affordable fares to a community which has historically been underserved by low fare airlines. Our vision is to inspire more Canadians to fly, and we are proud to be offering an ultra-affordable option for Quebecers to explore some of Canada's most popular destinations this summer. Montreal is an iconic destination in its own right and we are excited to make this vibrant city more accessible to Canadians."
Stephane Lapierre, Vice President of Air Operations and Air Service Development at airport operator ADM, added: "ADM Aeroports de Montreal is delighted to welcome this service from YUL to Calgary offered by our new airline partner, Lynx Air. This direct route, like the one to St. John's, represents a great opportunity for YUL to develop its domestic air services. While ADM is constantly seeking to offer its passengers the most diversified range of air services possible, Lynx Air has launched an offering in the under-exploited niche of low-cost flights that will undoubtedly appeal to both business and leisure travellers."
Lynx Air to expand Montreal operations
Lynx's Montreal network will continue to expand in the coming weeks, with the addition of Vancouver on 23 June. As a result, Lynx will be flying 26-weekly Montreal flights, which equates to just over 4,900 seats. The Vancouver flights will be maintained on a seasonal summer basis.
The Calgary-based Lynx Air launched operations in April of last year. It now serves 15 destinations - 11 in Canada and four in the US, with a fleet of seven 189-seat 737 MAX 8s. However, the ULCC has plans to significantly expand its operations with a further 50 737 MAX jets on order. The airline's CEO is Australian Merren McArthur, who has had previous airline experience with Virgin Australia and was CEO of Tigerair Australia between May 2018 and November 2019.