New Route of the Day – Americas (5 October 2023): American between Milwaukee and Washington DCA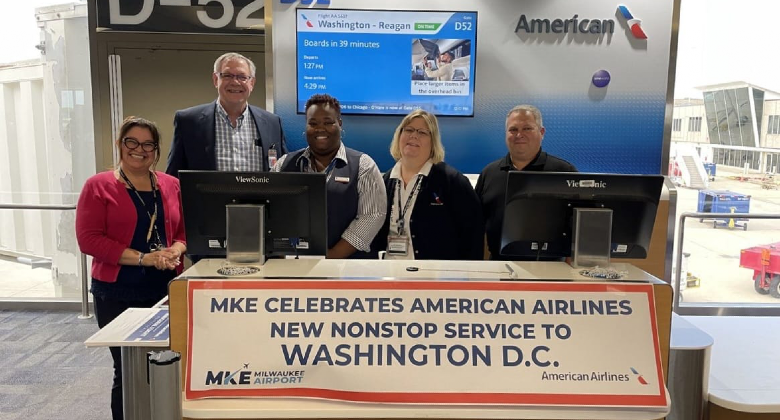 American added a new 2-daily service between Milwaukee and Washington DCA on Thursday 5 October. The 765-kilometre route will be maintained with a 65-seat CRJ700 aircraft, operated by American's regional subsidiary PSA Airlines. The carrier competes directly against 13-weekly Southwest Airlines flights. Milwaukee will host the Republican National Convention next year, during which the party will officially nominate and confirm a candidate for President and Vice President for the 2024 US Presidential Elections.
What they said
Brian Znotins, Senior Vice President of Network Planning at American, said: "American is excited to offer more service to Reagan National Airport with the addition of Milwaukee. This new market joins our robust DCA network of more than 85 destinations. We're proud to serve this new in-perimeter market without adding more congestion to the most heavily-utilised runway in the nation."
Brian Dranzik, Director of Milwaukee Airport, noted: "These new flights to DCA will offer a schedule that favours Milwaukee-based business travellers, allowing them to fly to DC, conduct a full day of work, and then fly back to MKE on the same day, avoiding the cost of a hotel stay. American's decision to offer two-daily flights will be a big hit with travellers, and DCA also provides another easy connection point to access other east coast markets."
David Crowley, County Executive for Milwaukee, added: "This new service to Washington, D.C. is being added just in time, giving travellers more reasons to choose MKE in connection with the Republican National Convention, which will be hosted in Milwaukee next year. We are expecting to see a considerable uptick in travellers between Milwaukee and Washington not only during the convention itself, but also in the months leading up to the convention."
Milwaukee to expand route network in winter
Milwaukee Airport is served by ten US carriers which maintain domestic flights, as well as services to Mexico. In addition to the new Washington DCA service, American will add flights to Miami on 4 November, while Sun Country Airlines will introduce operations to Orlando MCO and Phoenix on 14 and 21 December respectively,
Southwest Airlines is Milwaukee's largest carrier. In October alone it has 138,816 outbound seats. Its closest competitor - Delta - boasts 79,457 seats during the same month. Over the January - July period, Milwaukee Airport handled 3.4 million passengers, which is still down 20% compared to the same timeframe in 2019.
With a population of just over 577,000, Milwaukee is the 31st most populous city in the United States, the fifth-largest city in the Midwest, and the largest city in the state of Wisconsin.