New Route of the Day – Americas (7 April 2022): Flair between Toronto YYZ and New York JFK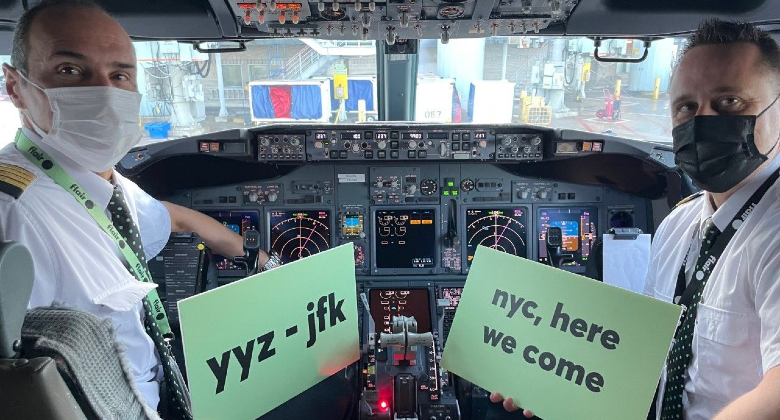 Flair has recently launched a number of new international routes between Canada and the US. This includes a 2-weekly (Thursdays and Sundays) service on the 590-kilometre connection between Toronto YYZ and New York JFK, which began on Thursday 7 April. Maybe surprisingly, Flair is the only airline linking these two airports in April. Prior to the pandemic, both Delta (3-daily) and American (2-daily) operated this route. According to Cirium data, Delta will resume 3-daily service (operated by Endeavor Air using 76-seat CRJ-900s) on the route on 12 September, while Swoop will enter the market with 5-weekly service, starting 20 June.
However, there are plenty of flights between these two major east coast North American cities, as follows:
Toronto YYZ – New York LGA: Air Canada (41-weekly), Delta (36-weekly), American (28-weekly) and WestJet (12-weekly)
Toronto YYZ – New York EWR: United (56-weekly) and Air Canada (28-weekly)
Toronto YTZ – New York EWR: Porter (49-weekly)
With a total of 252 weekly flights planned for April, Flair's share is less than 1%, although in terms of seat capacity it accounts for almost 2% thanks to the use of 189-seat 737 MAX 8s, while many of its indirect competitors use smaller regional jets.
More US routes starting soon
Having already launched service at the end of last year to Florida from a number of Canadian airports, this new route to New York heralds the start of further international expansion. Other new routes starting this summer are:
12 April: Edmonton to Nashville (2-weekly, see picture below)
14 April: Edmonton to San Francisco (2-weekly)
14 April: Toronto YYZ to Nashville (2-weekly)
17 May: Toronto YYZ to Chicago ORD (3-weekly)
17 May: Vancouver to San Francisco (3-weekly)
19 May: Vancouver to Anchorage (2-weekly)