New Route of the Day – Americas (7 February 2023): Porter Airlines between Toronto YYZ and Vancouver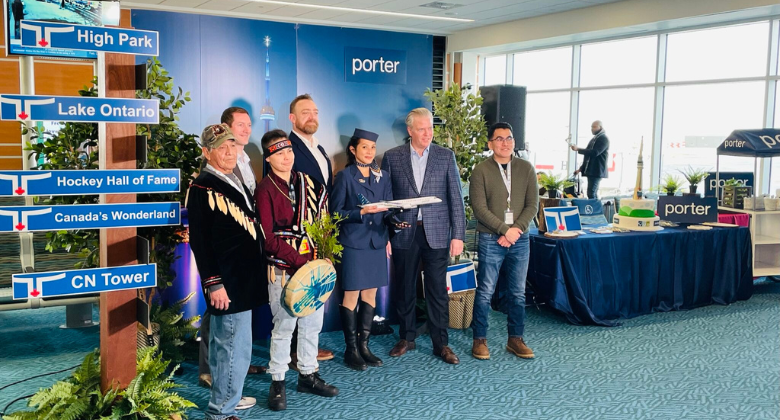 Porter Airlines is the latest entrant on the competitive domestic route between Toronto YYZ and Vancouver. On Tuesday 7 February, the airline added the 3,350-kilometre sector to its network, with an initial 2-daily service operated by its new E195E2 aircraft. Flights PD305 and PD313 depart Toronto YYZ at 10:15 and 17:59 local time respectively, arriving in Vancouver at 12:34 and 20:18 local time. The return flights, PD306 and PD318, depart Vancouver at 14:00 and 22:55 respectively, landing in Toronto YYZ at 21:32 and 06:27 the following morning local time. On 20 March, Porter will introduce an additional daily rotation on the route for a total of 3-daily.
What they said
Mike McNaney, Vice President and Chief Affairs Officer, Vanouver Airport Authority, said: "We are proud to welcome Porter Airlines to the YVR airport community as part of its service to Western Canada. Both Vancouver and Toronto are home to Canada's largest airports and major regional hubs. This service further strengthens our connectivity while providing our travellers with greater flexibility and choice."
Porter Airlines enters west Canada market
Porter Airlines' new Toronto YYZ to Vancouver service marks the carrier's entry into western Canada for the first time in its 16-year history. It faces significant competition on the domestic route by four other airlines.
Air Canada: 74-weekly
WestJet: 36-weekly
Flair Airlines: 13-weekly
Lynx Air: 2-weekly
Further competition is set to come from Canada Jetlines, which is currently planning to start 2-weekly service (Mondays and Saturdays) on the route from 1 May according to its website.
The flight is the longest in the Porter Airlines network, which is being served by its new all-economy 132-seat E195E2 aircraft. The inaugural service brought with it the roll-out of the carrier's new economy class concept, which includes complimentary drinks and snacks, to enable it to better compete.
Toronto YYZ new hub for Porter Airlines
Porter Airlines recently began building a network out of Toronto YYZ, with its main hub being Toronto YTZ. In addition to Vancouver, the carrier recently introduced flights from Toronto YYZ to Ottawa and Montreal. This will be followed with the introduction of daily flights to Edmonton on 14 February, 2-daily to Calgary on 22 February and a 2-daily service to Halifax on 23 February.