New Route of the Day – Americas (9 June 2022): JetBlue between New York JFK and Vancouver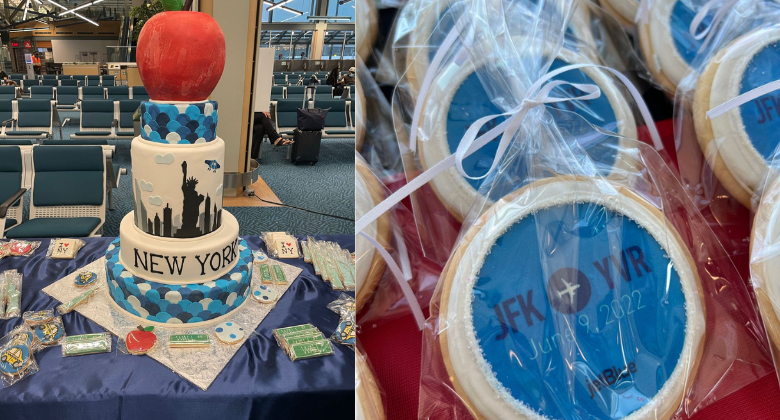 It has only taken 22 years, but JetBlue has finally launched its first service to Canada. On 9 June, the carrier began daily service from New York JFK to Vancouver. The 3,940-kilometre route is not served by any other carrier and will be flown using the airline's A320s. However, Air Canada and its Star Alliance partner United both offer daily service between Vancouver and New York EWR. Prior to the pandemic, Delta offered daily service between JFK and Vancouver.
JetBlue had planned to also operate daily service between its Boston base and Vancouver, starting in July. However, this route has been suspended as part of the airline's on-going network refinements this summer.
Almost 400 international departures per week from JFK
This August, analysis of Cirium schedule data shows that JetBlue will be offering almost 400 weekly flights from JFK across 32 international routes, up 5% compared with August 2019. That compares with over 900 weekly flights on domestic routes this summer. The highest frequency international routes are to Santiago (7-daily) and Santo Domingo (6-daily) in the Dominican Republic. Other country markets served by the carrier from JFK include Aruba, The Bahamas, Costa Rica, Ecuador, Guatemala, Jamaica, Mexico and the UK.
What they said
Andrea Lusso, VP Network Planning, JetBlue, said: "The addition of Vancouver to our route map marks an important milestone for JetBlue as our first Canadian destination. We look forward to not only introducing our outstanding service and competitive fares to Canadian customers but also providing access to all the cities we serve from New York."
Royce Chwin, President & CEO, Destination Vancouver, said: "JetBlue's new direct service to JFK means easier access from an important east coast market and is another significant step for Vancouver towards rebuilding our visitor economy. Non-stop air service from key North American cities makes our city an even more appealing destination for business events and for leisure travelers; JetBlue couldn't have made a better choice as its first Canadian destination than Vancouver."
Russell Atkinson, Director, Air Service Development at Vancouver Airport Authority, added: "We are thrilled to welcome JetBlue to YVR and are proud to make Vancouver the airline's first Canadian destination in its growing North American network. JetBlue brings another direct link between Vancouver and New York City. The new nonstop service to JFK is an important connection between our two regions for both business and leisure travel, further strengthening YVR's position as a diverse hub and directly benefiting our community and the economy that supports it."