New Route of the Day – Americas (9 September 2021): Frontier between Las Vegas and Harlingen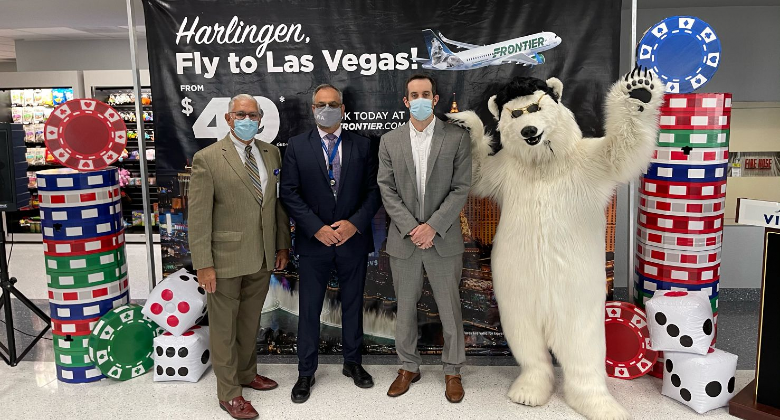 On Thursday 9 September Frontier began 2-weekly service between Las Vegas and Valley International Airport (IATA code HRL), serving Harlingen and the Rio Grande Valley in Texas. The inaugural service on the 1,990-kilometre route (flight number F9 1954 operated by an Airbus A320neo, registration N349FR) departed Las Vegas at 14:47 and touched down in Harlingen two hours and 43 minutes later at 19:30 local time according to flightradar24.com. The return flight (F9 1955) departed the Texas airport at 20:30 and arrived back in Nevada two hours and 35 minutes later at 21:05 local time.
2007 was busiest year for Harlingen
Valley International Airport is located in the very southern tip of Texas only a few kilometres from the border with Mexico. Two other Texas airports, Brownsville South Padre Island International Airport and McAllen Miller International Airport are both less than 60 kilometres away. In 2019 Harlingen Airport handled just under 700,000 passengers. This is well below the airport's busiest year of 2007, when almost 900,000 passengers used the facility. Earlier this year the airport welcomed 4-weekly service provided by Vivaaerobus from Monterrey in Mexico.
Southwest is leading airline
Frontier already serves Harlingen from Denver with a further service to Orlando set to launch in November. According to the airport's latest figures for July 2021, Southwest is the leading airline at Harlingen with almost 18,000 enplanements (flying to Houston HOU), followed by American (serving Dallas/Fort Worth) and United (serving Houston), both with just over 7,000 enplanements. Sun Country also operates winter seasonal service from Minneapolis/St. Paul.