New Route of the Day – Europe (15 July 2021): flydubai between Dubai and Salzburg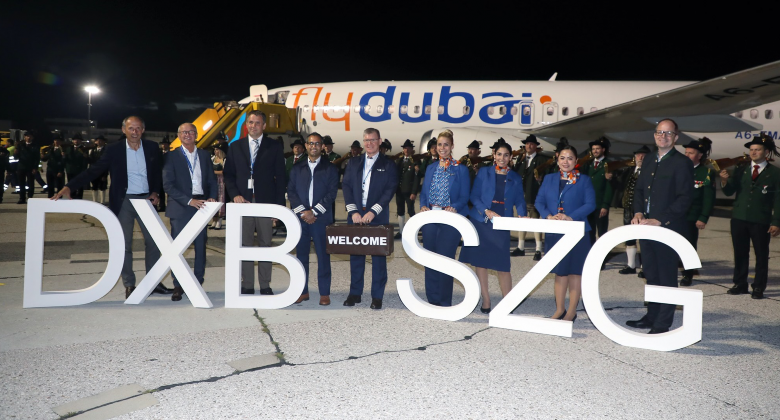 Salzburg in Austria is now linked to Dubai thanks to the launch on Thursday 15 July of a 4-weekly service by flydubai. The inaugural service (flight number FZ 1779 operated by a Boeing 737 MAX 8, registration A6-EMA) departed the UAE at 17:19 local time and arrived in Austria six hours and 10 minutes later at 21:29 local time. At 4,460 kilometres, this becomes the airline's longest sector, beating the 4,110-kilometre route to Krakow in Poland, which is flown twice weekly.
Now serves 22 destinations in Europe
Having already added non-stop service in 2021 from Dubai to Istanbul IST (Turkey), Minsk (Belarus), Mykonos (Greece), Tirana (Albania) and Trabzon (Turkey), flydubai now serves 22 destinations in Europe with the addition of this new Salzburg route. However, several 4,000-kilometre-plus sectors that were served in summer 2019 are not currently operating, notably Bratislava, Catania, Helsinki, Naples and Prague. Cirium Data and Analytics indicates that all of these routes should be resumed before the end of this year, government travel restrictions permitting.
What they said
Christopher Losmann of Salzburg Airport, said: "It is done! The negotiations were quite complex (and took a while to conclude), but finally crowned with success. It is a very special event for our airport! This connection to Dubai opens up a multitude of new onward flight opportunities worldwide. The codehsare connection to the Emirates hub in Dubai creates completely new perspectives for Salzburg Airport. We have virtually gained a "4th alliance"- beside the three already existing alliances Star Alliance, oneworld and Skyteam - and thus will be able to offer passengers the opportunity to reach destinations all over the world, quickly and conveniently in the combined flydubai and Emirates destination network. This is an incredible benefit for the airport, the Province of Salzburg and our passengers." Ghaith Al Ghaith, CEO at flydubai, said: "With the start of flights to Salzburg we continue to steadily grow our network catering to an increasing demand for travel, as more passengers return to the skies and more countries ease restrictions on international air travel. Since commencing operations in 2009, we have been committed to opening up previously underserved markets and the launch of our operations to Austria demonstrates our continuous efforts to offer more people the opportunity to travel more often while creating free flows of travel, trade, and tourism."