New Route of the Day – North America (2 July 2021): Air France between Paris CDG and Denver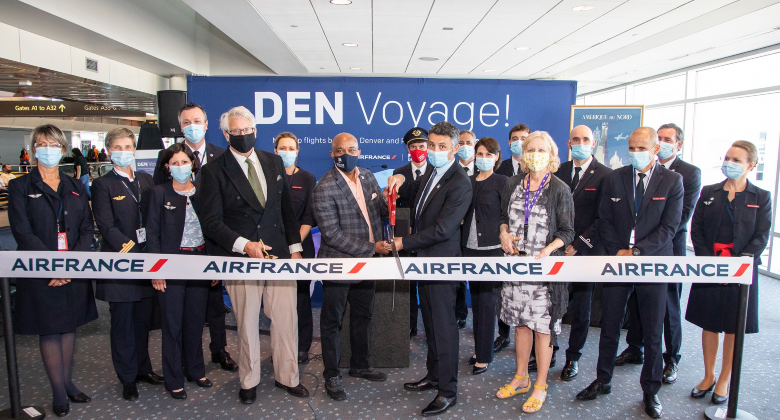 Air France added Denver in Colorado to its US network with the launch on Friday 2 July of 3-weekly service from Paris CDG. The inaugural service (flight AF 632 operated by Air France's Boeing 787-9 registration F-HRBB) departed the French capital at 13:54 and touched down 30 minutes ahead of schedule in Denver, just under nine hours later at 14:49 local time. Passengers on the return flight were handed special 'Denver-Paris' branded socks. Nice.
At present, there are just five airline services operating non-stop between Europe and Denver. Apart from Air France's new service, Lufthansa is operating from both of its bases (Frankfurt and Munich), Icelandair is flying from Reykjavik KEF, while United Airlines is also operating to Frankfurt. Neither British Airways nor United have yet reinstated their Heathrow-Denver services, while Norwegian's services from Gatwick and Paris CDG, operated 3-weekly in S19, no longer operate, after the carrier shut down its long-haul network as part of its major restructuring.
Apart from Denver, Air France is currently serving 11 other US destinations according to Cirium Data and Analytics schedule information for July. The only two US destinations served in S19 but not currently served in S21 are Dallas/Fort Worth and Seattle-Tacoma.
Air France long-haul expansion focuses on French-speaking regions
Comparing Air France's current long-haul network from CDG with what it operated non-stop in August 2019, reveals that apart from Denver, the French flag-carrier has focussed its attention on destinations with a strong French connection. Previously Cayenne (French Guiana), Fort-de-France (Martinique), Pointe-à-Pitre (Guadeloupe) and St. Denis (Reunion) were only served from Paris Orly. However, last April, not long after the start of the pandemic, all four destinations were also served non-stop from Paris CDG.