New Routes of the Day (1 October 2023): Aeroitalia's new routes from Ancona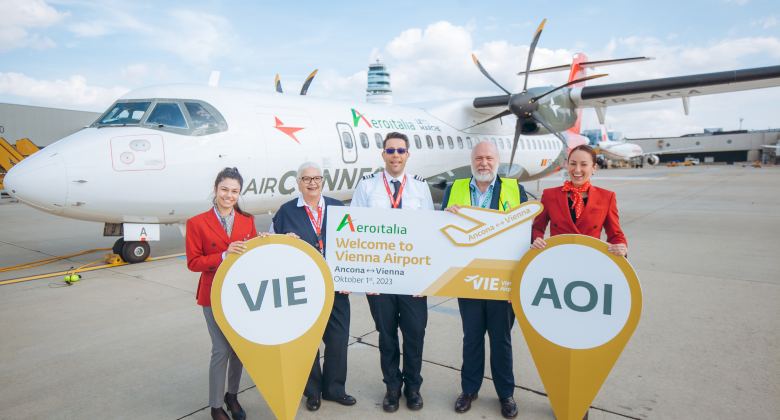 Aerotalia opened its new base in Ancona on Sunday 1 October, launching several new routes.
Rome FCO (2-daily)
Milan LIN (12-weekly)
Naples (daily)
Vienna (2-weekly)
Barcelona (2-weekly)
Bucharest BBU (3-weekly)
All flights will be operated by the 68-seat ATR72 turboprop aircraft wet-leased from Romania's Air Connect. The three domestic services are operated as Public Service Obligation flights. The Italian airline was the only one to apply to maintain the subsidised services in three tender rounds organised by authorities. Aeroitalia faces no competition on any of the six routes.
What they said
Gaetano Intrieri, CEO of Aeroitalia, said: "It is with great satisfaction to inaugurate new routes that will allow us to strengthen relations and accessibility between important centers and the Marche region. Aeroitalia's objective is to expand its flight offering, thus allowing the local population of the Marche and surrounding regions to fly directly to fascinating destinations. Aeroitalia thanks all its partners and stakeholders who made the implementation of these new routes possible."
Alexander D'Orsogna, General Manager of Ancona Airport, noted: "The opening of these new routes is a great success for Ancona Airport and a great opportunity for the entire territory of the Marche Region, which, after several years, will again be connected to Rome and Milan Linate. The cooperation with AeroItalia opens up markets of great interest for Ancona Airport and its catchment area. The new important international connections will satisfy different types of customers, starting from leisure, both inbound and outbound, moving on to business customers and ending with ethnic customers. Once again this is the result of the joint commitment and collaboration between the airport management company and the Marche Region".
Aeroitalia now accounts for half of Ancona's flights
Aeroitalia has become Ancona Airport's biggest carrier in terms of the number of operated flights and will be second in terms of capacity on account of the smaller turboprop aircraft it is utilising for these services. The carrier, which launched operations just last year, will have a total of 177 departures from Ancona in October and offer 12,744 outbound seats. It will be ahead of Ryanair, which will maintain 68 flights but will have more capacity, boasting 12,904 seats.
Flights between Ancona and Rome FCO were last maintained by Alitalia in 2018. Over the years, several airlines have served the route, including Air Italy and Gryphon Airline. Services to Milan LIN were also last operated by Alitalia, in 2016. On the other hand, operations to Barcelona were last served by Vueling in 2017. The other remaining destinations launched by Aeroitalia have not been maintained from Ancona in the recent past.