New Routes of the Day (13 June 2023): Wizz Air's new routes from Vienna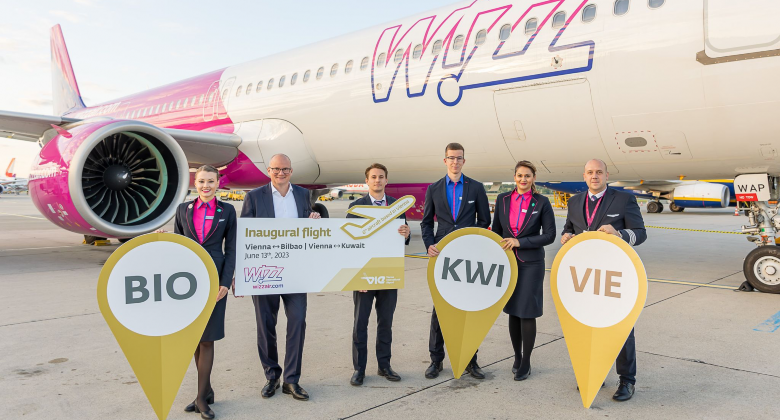 Wizz Air introduced two new destinations from its Vienna base on Tuesday 13 June, with the addition of Bilbao and Kuwait City to its network. Both the 1,600-kilometre service to Bilbao and the 3,405-kilometre route to Kuwait City will be maintained 2-weekly on Tuesdays and Saturdays with the A321neo aircraft. The airline faces no competition on the Bilbao service but goes head-to head against Kuwait Airways' 3-weekly flights on its new Middle East route.
What they said
Robert Carey, President of Wizz Air, said: "Today is a significant day for Wizz Air as we celebrate the arrival of our sixth Airbus A321neo aircraft at our Vienna base, the opening of two exciting new routes to Bilbao and Kuwait City and the achievement of the incredible milestone of 7 million passengers having decided to fly with us from Vienna Airport. We are very excited to expand our operations in Vienna, offering even more options to our Austrian passengers and welcoming travellers on our young and modern aircraft."
Julian Jager, CEO of Vienna Airport, added: "With the base and route expansion, Wizz Air is bringing even more flights to Vienna. The Basque port city of Bilbao in particular is a popular tourist destination with its impressive architecture and the world-famous Guggenheim Museum. We are very happy about the new routes, the sixth aircraft and congratulations on seven million passengers in Vienna."
Wizz Air approaches 40 destinations from Vienna
Wizz Air has launched 80 routes from Vienna in less than five years. The fact that well under half that number is still bookable on the airline's website highlights the dynamic nature of the airline business in recent years and the intense competition being provided by other carriers, notably Ryanair, in Vienna.
The ULCC now has 37 destinations in its Vienna network, with Kuwait City being the ninth in the Middle East, joining Abu Dhabi, Amman, Dammam, Dubai, Eilat, Jeddah, Riyadh and Tel Aviv. On the other hand, Vienna is Bilbao's second Wizz Air route, having previously been linked by the airline only to Warsaw WAW.
Wizz Air plans to introduce seasonal flights from Vienna to Hurghada in Egypt on 25 September but will discontinue services to Varna on 27 September. With the addition of its sixth based aircraft in the Austrian capital this June, the ULCC will increase frequencies to Madeira, Nice, Tel Aviv and Yerevan.