New Routes of the Day (16 April 2022): Blue Air between Bucharest and Funchal/Porto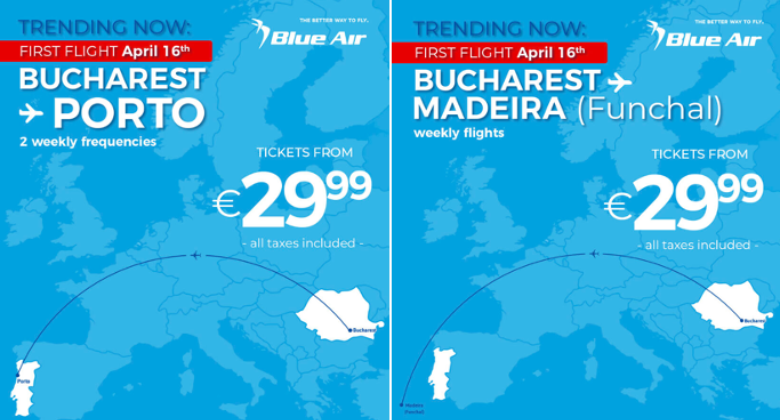 Blue Air (IATA code 0B, not to be confused with La Compagnie which is B0) added two more routes from its main base at Bucharest on Saturday 16 April. The two new destinations are both in Portugal; Porto and Funchal (on the island of Madeira). The 3,910-kilometre Funchal service will operate weekly throughout the summer. Frequency on the 2,840-kilometre Porto route will initially be weekly, increasing to 2-weekly from 21 June with the addition of a Tuesday service. Neither route will face any direct competition. Blue Air already serves Lisbon with 3-weekly flights.
Over 60 routes from Bucharest this summer
Blue Air's network from the Romanian capital this summer is set to exceed 60 destinations, with several new seasonal routes still to start. These include:
Croatia: Dubrovnik and Split
Greece: Chania, Corfu, Kefalonia, Santorini and Skiathos
Spain: Bilbao, Ibiza, Seville and Zaragoza
According to analysis of Cirium schedule data for S22 and S19, Blue Air will now be the biggest carrier for flights in Bucharest, though Wizz Air will still offer more seats due to operating larger A321 aircraft. However, while Wizz Air's share of seat capacity at the airport has remained relatively unchanged since S19 at around 25%, Blue Air has increased its market share (of seats) from just under 14% three summers ago, to over 23% this summer. Ryanair remains the third biggest carrier at Bucharest, having increased its share of seats from 12% to 16%.
Flag-carrier TAROM ranks just fourth, having seen its share of seats fall from 21% to 13%.