New Routes of the Day (16 August 2021): Flyr between Oslo and Bergen/Trondheim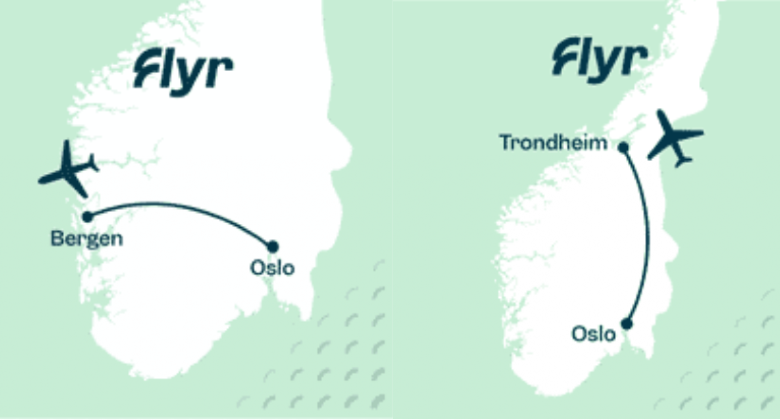 Flyr,
the recently launched Norwegian carrier
, has added two new domestic destinations to its network. On Monday 16 August the airline began serving both Bergen and Trondheim from its base in Oslo. The 325-kilometre Bergen route is being served with 17 weekly flights. The airline's on-line booking tool shows that there are three flights on Mondays, Tuesdays, Wednesdays and Thursdays, two flights on Fridays, just one on Saturday and two on Sundays. The 365-kilometre route to Trondheim is being served with 14 weekly flights. There are two daily flights each day except on Friday when there are three and Saturday when there is just one.
SAS and Norwegian compete
Both of these major domestic trunk routes are already well served by Norwegian and SAS. Cirium Data and Analytics schedule information shows that for the week commencing 23 August, Norwegian is typically operating between nine and 11 daily flights on both routes (except on Saturdays), while SAS is typically operating between eight and nine daily flights, with just four flights on Saturdays. Norwegian is using 737-800s on the route while SAS is using a mix of 737-700s and A320neos. In addition, Widerøe is offering two daily flights on the Trondheim route using its much smaller turboprop aircraft.
Airseven aircraft supplementing Flyr's two 737-800s
With the addition of these two new domestic routes, Flyr's two 737-800s (registration LN-FGA and LN-FGB) are no longer sufficient to operate the airline's network of over 70 weekly departures from Oslo, which includes the airline's original domestic flights to Bodø, Harstad/Narvik and Tromsø, and, starting this weekend, international flights to Alicante, Malaga and Nice. As a result, Flyr has contracted Danish carrier Airseven to operate a 737-400 (registration OY-OSA) on some of the daily Harstad/Narvik and Tromsø routes since Monday 16 August. Meanwhile, the airline's own aircraft are operating up to five daily rotations from Oslo. Flyr is able to operate three daily flights to Bergen and two daily flights to Trondheim using a single aircraft. Although the airline's schedule shows flights taking 55 minutes on these routes, the actual flying time, according to planespotters.net, is typically between 35 and 45 minutes, which provides considerable slack in the system for any delays.