New Routes of the Day (24 July 2022): Flybe has three new routes from Southampton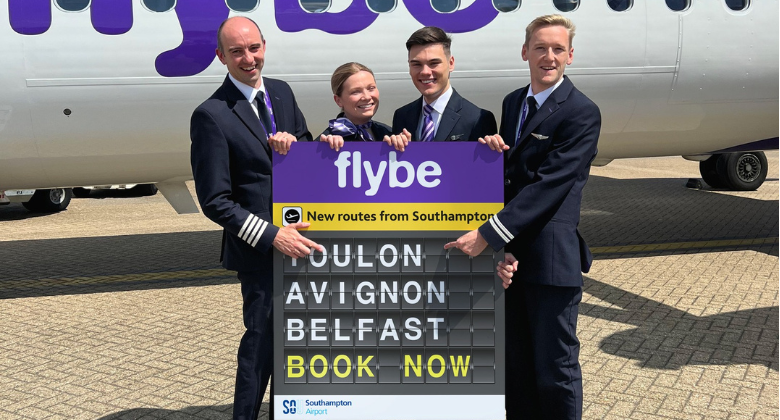 The revived Flybe has launched three new routes from Southampton on the UK's south coast. On Saturday 23 July it began weekly service on the 915-kilometre route to Avignon in the south of France. The following day it added weekly service on the 1,040-kilometre route to Toulon, also in the south of France. The Avignon route will operate until 24 September (just 10 return flights) while the Toulon service is offered until 11 September (just eight return flights). These are the new Flybe's first services from Southampton and neither faces direct competition. The original Flybe had a considerable presence at the airport, operating flights to over 60 destinations at some point or other during the last 20 years, including Avignon and Toulon.
Avignon Airport in Provence has just three scheduled services this summer. Flybe began weekly service from Birmingham on 9 July, while TUI fly Belgium offers 2-weekly service from Antwerp. At the turn of the century the airport was welcoming around 120,000 passengers per annum, but in 2019 this had fallen to just 7,205. The airport lies around 60 kilometres from Marseille Airport and 85 kilometres from Montpellier Airport.
Third carrier on Southampton-Belfast BHD
To operate these new Southampton routes the airline operated a couple of flights from its Belfast BHD base. Daily service between the airport in Northern Ireland and Southampton is set to start on Thursday 28 July, but technically the route began on 23 July. Competition on the route comes from Eastern Airways (13-weekly) and Aer Lingus Regional (daily, operated by Emerald Airlines). Both these carriers operate ATR 72s compared with Flybe's Q400s. Whether this route can sustain all three carriers is debatable. Pre-pandemic, in August 2019, Flybe was the only carrier on the route operating up to three daily flights. Cirium schedule data shows that in October 2022 there will be 50% more flights and 44% more seats on this route than there were in October 2019.