New Routes of the Day (26 June 2023): easyJet two new domestic routes to Belfast BHD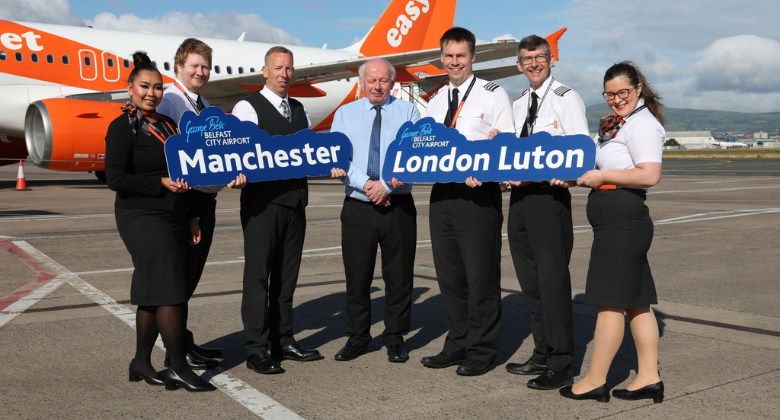 easyJet has increased its presence at Belfast's downtown airport with the addition of two new domestic routes. On 26 June the UK-based LCC began 4-weekly service to Belfast BHD from both London LTN and Manchester. The 480-kilometre route from Luton is not served by any other carrier and was last served by easyJet in 2011. However, easyJet will face significant competition on the 275-kilometre Manchester route, as this is currently flown 4-daily by Aer Lingus. However, while easyJet serves the route with its A319s and A320s, Aer Lingus utilises smaller ATR 72s flown on its behalf by Emerald Airlines.
In total, easyJet now serves six routes from Belfast BHD. The other airports served are Bristol (4-weekly), Glasgow GLA (3-weekly), Liverpool (13-weekly) and London LGW (3-daily). With 49 weekly departures, easyJet ranks third for flights at Belfast BHD, just behind British Airways (52 weekly departures) and Aer Lingus (168). However, in terms of seat capacity easyJet is larger than British Airways.
From Belfast BFS easyJet offers flights to 13 UK destinations (with a total of 283 weekly departures), including all six UK airports it now serves from Belfast BHD.
Decent recovery after loss of dominant Flybe services
Pre-pandemic Belfast BHD was dominated by the original Flybe which accounted for around two-thirds of all seat capacity in the summer of 2019. Latest traffic statistics from the UK CAA show that in April the airport handled just over 170,000 passengers. While this is an increase of 53% on April 2022, it is still 19% below the figure for April 2019.