New Routes of the Day (26 May 2023): Volotea's new routes from Bordeaux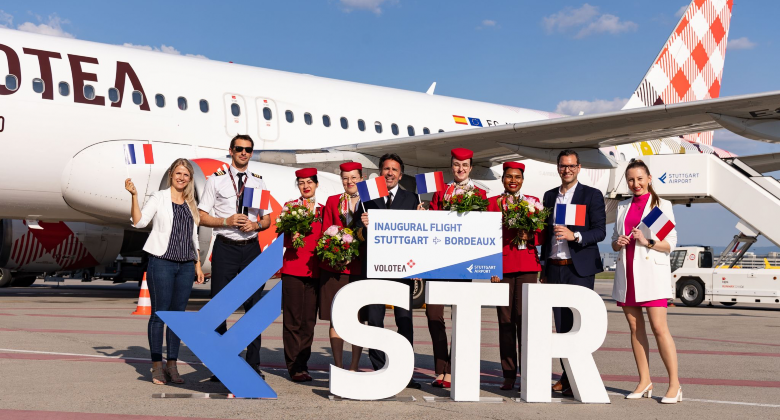 Volotea introduced two new routes to Germany on Friday 26 May from its Bordeaux base to both Dusseldorf and Stuttgart. Both the 910-kilometre service to Dusseldorf and the 870-kilometre route to Stuttgart will be maintained 2-weekly on Mondays and Fridays with the A320-family aircraft. The LCC faces no competition on either of the two.
The new destinations come after Volotea signed a special sales partnership with Eurowings that covers the sale of tickets for 150 European routes operated by both airlines, including the two new additions. Volotea will further expand its presence in Germany with the introduction of 2-weekly flights between Bordeaux and Hamburg on 10 October.
What they said
Celine Lacroix, International Development Officer at Volotea, said, "We are delighted to be embarking on this new chapter in Germany with Bordeaux spearheading the agreement. With these three exclusive new destinations, Düsseldorf, Stuttgart and Hamburg, we now have a distinctive offer for the inhabitants of Bordeaux and Germany wishing to discover the region's rich heritage. We are convinced that these exclusive links cater to the needs of our clients and will help to enhance the reputation and dynamics of these territories."
Simon Dreschel, Chairman of the Executive Committee at Bordeaux Airport, added: "Opening up these three lines represents significant headway in the reconstruction of our international network by adding three new destinations in Germany, in addition to the lines already available. They are considerably boosting our appeal to Germans, which is an important vector for growth in tourism for our territory."
Bordeaux Airport counts over 125 routes this summer
Bordeaux Airport is set for a stellar summer season with just over 125 direct routes, 11 of which are new, as well as 93 destinations and 25 airline partners. During S23, the airport boasts 12 domestic destinations in France and is linked to 80 points in Europe. Furthermore, the airport has one route to the Middle East, 10 to North Africa and one long-haul service to Montreal.
The airport's expanding route network is partly down to the densification programmes of major hub airlines, including IAG group (Aer Lingus, British Airways, Iberia and Vueling), AFKL group (Air France and KLM) and Lufthansa group (Brussels Airlines, Swiss Airlines, Lufthansa). New routes and increased capacity from Volotea, the long-awaited return of Nouvelair, and the arrival of Transavia have also boosted Bordeaux's connectivity.