New Routes of the Day (29 June 2021): SunExpress from Düsseldorf to Turkey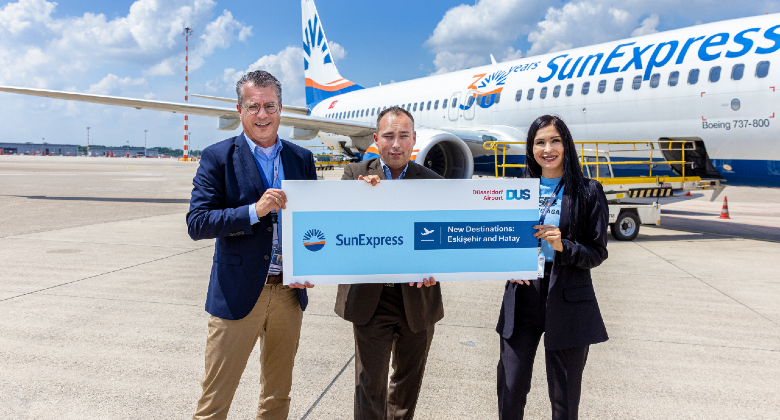 The choice for passengers between Düsseldorf and Turkey is growing rapidly at the moment.
Corendon Airlines recently opened a base at the German airport
and now SunExpress is increasing its offering with two new routes. On Tuesday 29 June the airline, a joint venture between Lufthansa and Turkish Airlines, began non-stop service to both Eskisehir and Hatay, with both routes being operated weekly. Neither currently faces direct competition. While no other airport in the European Economic Area currently has non-stop flights to Hatay, Eskisehir is also served by SunExpress from Brussels BRU, by Corendon Airlines from Brussels BRU and Cologne Bonn, and by TUI fly Belgium from Brussels BRU and Ostend. Eskisehir's airport, located just a few kilometres north of the city centre, lies within the grounds of the Faculty of Aeronautics and Astronautics, part of Anadolu University. SunExpress is planning to serve 17 destinations in Turkey from Düsseldorf this summer, up from five in 2019 and 14 in 2020. Apart from Eskisehir and Hatay, the other new destination for 2021 is Zonguldak, which was launched in early May.
Eskisehir lies on the high-speed rail line between Ankara and Istanbul
Unusually among Turkish airports, Eskisehir's passenger traffic is dominated by international flights, accounting for almost all of the 86,000 passengers that used the airport in 2019. Located roughly mid-way between Istanbul and Ankara, the lack of domestic air links from Eskisehir can be explained by the fact that it lies on the high-speed rail link between the two major cities. The section to Ankara was opened in 2009 (and takes about 90 minutes), while the Istanbul section opened in 2014 (and takes at least 150 minutes).