New Routes of the Day 3 (28 March 2023): Ryanair's new routes from Belfast BFS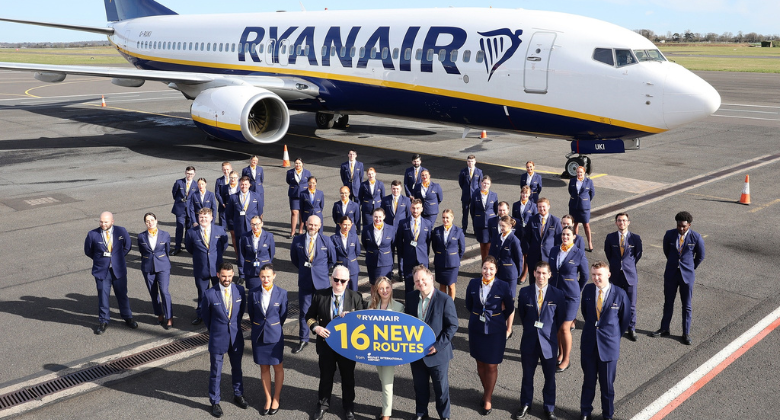 Ryanair has resumed operations out of Belfast BFS following a two-year hiatus by reinstating its base and introducing several new routes over the past week.
26 March: Cardiff (2-weekly)
26 March: Edinburgh (12, versus easyJet)
26 March: Faro (4, versus easyJet and Jet2.com)
26 March: Girona (2)
26 March: Krakow (2, versus easyJet)
26 March: London STN (16, versus easyJet)
26 March: Manchester (16, versus easyJet)
26 March: Milan BGY (3)
27 March: Budapest (2)
27 March: East Midlands (4)
28 March: Alicante (3, versus easyJet and Jet2.com)
28 March: Malaga (3, versus easyJet, Jet2.com and TUI Airways)
29 March: Palma (2, versus easyJet, Jet2.com and TUI Airways)
31 March: Gdansk (3)
31 March: Paris BVA (2)
1 May: Valencia (2)
While all 16 of these routes are new compared with S22, only seven have not previously been served by Ryanair from Belfast BFS. They are Budapest, Cardiff, East Midlands, Edinburgh, Palma de Mallorca, Paris BVA and Valencia.
What they said
Uel Hoey, Business Development Director at Belfast International Airport said: "Today is a significant day on many fronts. As we continue to rebuild the business post pandemic, to be able to welcome Ryanair back on such a significant scale is testament to the hard work that the team in Belfast has invested in securing this new base. Ryanair will bring low fares, high frequency and great choice to the local market and this significant investment and job creation is positive news for this region."
Dara Brady, Director of Digital & Marketing at Ryanair, added: "We are pleased to announce the start of operations at our Belfast International Airport base for Summer 23. Ryanair will operate 16 routes in total this summer with 2 based aircraft representing an investment of $200 million and the creation of over 950 total jobs at Belfast International Airport."
Ryanair returns to Belfast BFS after taxes reduced
Ryanair discontinued operations out of Belfast BFS on 30 October 2021 due to the UK government's refusal to reduce the Air Passenger Duty, which is an excise tax unique to the country, as well as the lack of Covid recovery incentives from Belfast BFS. However, it reversed its decision due to the new domestic Air Passenger Duty coming into effect in April, which lowers fees for airlines flying between England, Scotland, Wales and Northern Ireland.
Ryanair will maintain flights to sixteen destinations out of Belfast this summer with 140-weekly flights scheduled.
Ryanair has had a turbulent history of serving Northern Ireland's capital. The ULCC opened a base at Belfast BHD in 2007 with one aircraft, pulling out after 37 months. In 2016, it announced a base at Belfast BFS with up to three aircraft. It pulled out after 62 months. In 2021, it returned to Belfast, but left four months later.