New Routes of the Day (3 May 2023): airBaltic between Tampere, Vilnius and Nice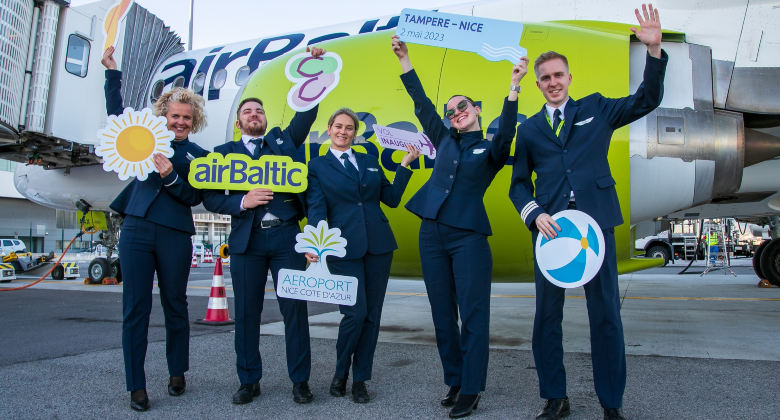 airBaltic introduced a pair of new seasonal routes on Wednesday 3 May from Tampere in Finland, as well as the Lithuanian capital of Vilnius, to Nice.  Both the 2,260-kilometre service from Tampere and the 1,785-kilometre route from Vilnius are being maintained 2-weekly with the A220-300 aircraft. The carrier faces no competition on either service. Flights between the Finnish city and Nice will run on Tuesdays and Saturdays, while services from the Lithuanian capital will be maintained on Wednesdays and Saturdays.
What they said
Martin Gauss, President and CEO of airBaltic, said: "In a few months we will be celebrating the first anniversary of our base in Tampere, and so far the demand from Finnish passengers has met our expectations. Following the success, we at airBaltic are thrilled to add Nice to the network, which is a are very popular travel choice. We hope that this year the passenger demand will gradually grow even more, therefore we may launch additional new destinations to various business hubs and leisure destinations over time."
airBaltic in major network expansion
airBaltic is in the process of adding twenty routes to its network as it looks to redirect capacity previously utilised on its Ukraine and Russia operations. Most of the new services are seasonal and are primarily targeting leisure travellers, with a number of new routes to the shorelines of Greece, Croatia and Spain. New flights are being introduced from all four of the airline's bases this summer. In addition to Tampere and Vilnius, they include Riga in Latvia and Tallinn in Estonia. Overall, airBaltic is serving over seventy destinations in Europe, Scandinavia, the former Soviet republics and the Middle East this summer.
Apart from the two new seasonal services to Nice, airBaltic also serves the French city from Tallin over the summer months and runs year-round operations from Riga.