New Routes of the Day (3 October 2022): Chalair three domestic routes from Toulouse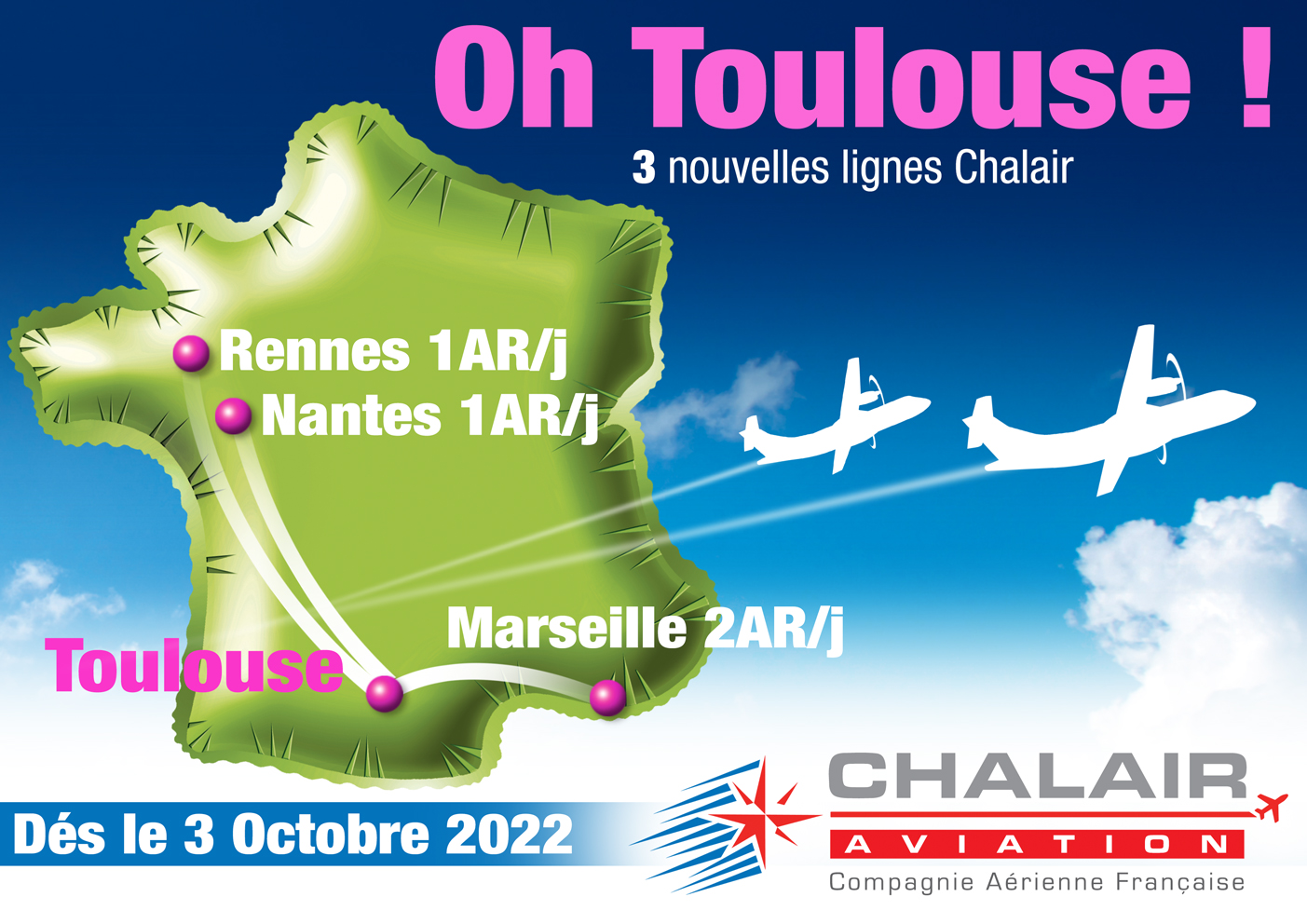 Chalair (IATA code CE) has launched three new domestic routes, all from Toulouse in the south of France. On Monday 3 October the French regional carrier began 5-weekly (Monday through Friday) service to both Nantes and Rennes, as well as 10-weekly (twice-daily Monday through Friday) to Marseille. The airline uses an ATR 42 (registration F-GPYK) on all three routes, operating eight sectors per day. The first rotation of the day (departing Toulouse at 06:20) is to Marseille, followed by the Rennes and Nantes rotations. Finally, the second Marseille rotation is flown with the aircraft scheduled to return to Toulouse at 20:35. On the first day of operation seven of the eight sectors were on time, while all eight were on time on Tuesday 4 October according to flightradar24.com.
All three routes are already served by other carriers:
Marseille: Twin Jet (23-weekly)
Nantes: easyJet (15-weekly), Air Corsica (daily), Volotea (4-weekly)
Rennes: easyJet (5-weekly)
Pre-pandemic, in October 2019, Air France was operating up to 3-daily on all three routes with aircraft operated by its regional subsidiary HOP! The 310-kilometre Marseille route was served with ATR 72s, the 455-kilometre Nantes route saw CRJ1000s, while the 550-kilometre Rennes route welcomed a mix of CRJ700s and CRJ1000s. In addition, Ryanair was operating daily flights between Toulouse and Marseille using its 189-seat 737-800s.
Chalair offers six other domestic routes
The carrier also flies six other French domestic routes in October:
Bordeaux-Brest: 11-weekly with Beech 1900
La Rochelle-Poitiers: 5-weekly with ATR 42
Lyon-Limoges: daily with ATR 42
Lyon-Poitiers: 5-weekly with ATR 42
Paris Orly-Limoges: 10-weekly with Beech 1900
Paris Orly-Quimper: 10-weekly with ATR 42
However, Limoges airport is set to close from 31 October to 11 December for complete refurbishment of the runway and parking areas.
According to planespotters.net, Chalair has a fleet of three 48-seat ATR 42s and one 70-seat ATR 72.