New Routes of the Day (3 September 2022): Ryanair between Forli and Palermo/Katowice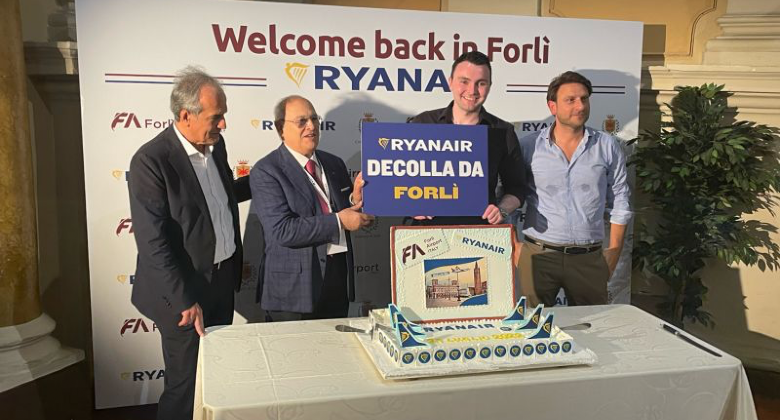 Ryanair has resumed flights from Forli in Italy after a gap of over 13 years. On 1 September it began 4-weekly service on the 880-kilometre route from its base at Katowice in Poland. Two days later, on 3 September, 4-weekly service on the 675-kilometre route from the airline's base in Palermo (Sicily) was added. Neither route faces direct competition.
Forli is located between Bologna (75 kilometres to the northwest), Florence (80 kilometres to the southwest) and Rimini (50 kilometres to the southeast). Over 500,000 passengers used Forli every year between 2004 and 2010, reaching a peak of just over 800,000 in 2004 according to Assaeroporti data. That year, according to Cirium data, the airline welcomed scheduled flights from Aer Lingus, Air One, Austrian Airlines, Brussels Airlines, CSA Czech Airlines, germanwings, Iberia, KLM, Meridiana, Ryanair and WindJet. However, between 2013 and 2020 there were no regular scheduled services at the airport.
EGO Airways, Lumiwings and Aeroitalia
Forli Airport finally welcomed scheduled flights again in March 2021 when EGO Airways began flying from the airport to Catania (with an E190) and Lumiwings started service to Palermo (with a 737-300). Flights to Trapani with Lumiwings followed in April, while EGO Airways added Cagliari in June. International service to Munich, operated by Air Dolomiti, also began last June. EGO Airways then added 3-weekly service to Comiso, Ibiza, Lamezia Terme, Mykonos and Olbia in July, with Lumiwings introducing service to Kefalonia and Lodz the same month. In October EGO Airways started competing with Lumiwings on the Palermo route. As a result of all these flights, Forli welcomed almost 30,000 passengers in 2021.
Lumiwings' presence at Forli rather fizzled out last winter according to Cirium schedule data, while EGO Airways ceased all operations in early January 2022. They have been replaced by Aeroitalia, a new carrier that began service from Forli on 22 July and is currently offering flights to 10 destinations from the airport.
Ryanair operated 13 routes in 2008
Ryanair first began serving Forli as long ago as November 2001 when it started service from London STN. This was followed in December 2002 by flights from Frankfurt HHN. In total, it offered flights to Forli from 13 airports between 2001 and 2009. These were spread across six countries:
Belgium: Brussels CRL (2007-2008)
Germany: Frankfurt HHN (2002-2008)
Ireland: Dublin (2007-2008)
Italy: Alghero (2008-2009), Bari (2008-2009), Cagliari (2008-2009), Lamezia Terme (2008-2009), Olbia (2008-2009), Palermo (2008-2009)
Spain: Girona (2007-2008), Valencia (2007-2008)
UK: Birmingham (2008), London STN (2001-2008)
All 13 routes were operated at some point in 2008. The last Ryanair flights (to five domestic destinations) prior to this latest resumption were on 28 February 2009.