New Routes of the Day (30 March 2022): SWISS between Zurich and Bologna, Nantes, Sofia & Vilnius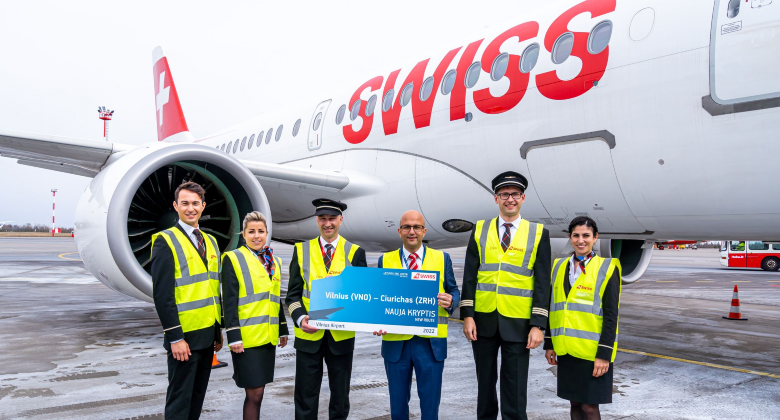 SWISS added four new routes at the start of the summer season from its Zurich hub including Vilnius in Lithuania on Wednesday 30 March. The 1,410-kilometre sector will be flown 2-weekly on Wednesdays and Saturdays using a mix of SWISS's own A220-100s and A220-300s as well as partner Helvetic's E190s and E195s. No other carrier connects these two airports.
Two other Lufthansa Group carriers already serve the Lithuanian capital. Lufthansa itself operates 2-daily flights from Frankfurt while Brussels Airlines is flying 4-weekly this summer from Brussels.
What they said
Patrick Borg Hedley, Lufthansa Group's Head of Sales for Finland, Estonia, Latvia and Lithuania, said: "We are happy to be connecting Switzerland and Lithuania with a direct flight from the upcoming aviation summer season. SWISS belongs to the Lufthansa Group, and this new route will further expand our group's market presence in Lithuania. Zurich is not only an attractive city for tourists, but also an aviation hub though which passengers can conveniently reach destinations in Europe, North America or the Middle East."
Aurimas Stikliūnas, Head of Aviation Services at Lithuanian Airports, added: "We are witnessing a rapid aviation market recovery, and this new route will further broaden the range of direct flights on offer from our airports. Zurich is a strategically important route for businesses and the tourism sector. We are confident that this new route will bring new opportunities and will be popular among both business and leisure travellers."
Also new routes to Bologna, Nantes and Sofia
Vilnius was just one of four new routes launched by SWISS from Zurich last week. On 28 March the carrier began 4-weekly service to Nantes in France and 2-weekly service to Sofia in Bulgaria. The Nantes route faces no competition while Bulgaria Air offers 2-weekly service to the Bulgarian capital. Finally, on 31 March, 4-weekly service on the relatively short 400-kilometre route to Bologna in Italy was introduced. Sadly for the launch of this route, which featured a Lamborghini 'follow me' car, the weather was rather more British than Italian (see below).