New Routes of the Day (30 March 2023): Jet2.com's new routes from London STN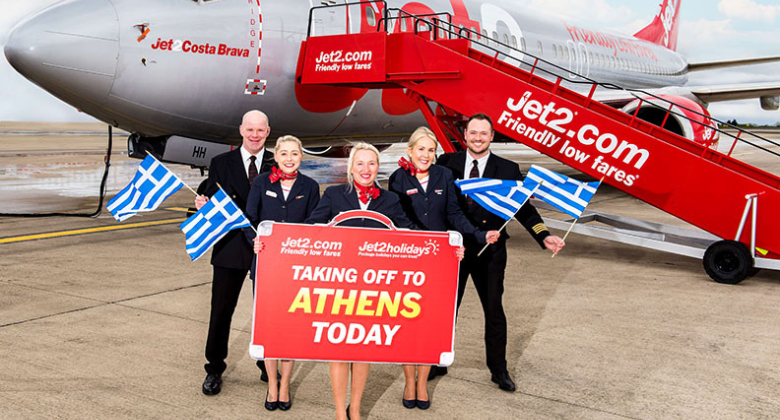 Jet2.com introduced a pair of new routes on Thursday 30 March from its London STN base to Athens and RomeFCO. The 2,410-kilometre service to the Greek capital is maintained 2-weekly, on Thursdays and Sundays, competing against Ryanair's daily operation. The 1,445-kilometre route to Rome FCO runs 4-weekly on Mondays, Thursdays, Fridays and Sundays. It does not have direct competition on the service since Ryanair operates to Rome CIA instead. Both new routes are served by 737-800 aircraft.
What they said
Steve Heapy, CEO of Jet2.com and Jet2holidays, said: "This expansion is the latest demonstration of our continued commitment to invest in our operations at London Stansted. Last year we celebrated five years since launching flights and vacations from London Stansted, and from day one the feedback from customers and independent travel agents has been incredible."
Stansted becomes Jet2.com's second largest base
The new flights from London STN to Athens and Rome FCO mark the start of Jet2.com's expansion from the base. The airline has so far scheduled the launch of a further four new routes for 2023 and 2024.
23 November 2023: Vienna
30 November 2023: Prague
3 May 2024: Nice
6 May 2024: Tivat
During S23, Jet2.com will operate 225 weekly flights to 42 destinations from London STN, with over 2.1 million seats on sale, representing growth of 10% YOY. The airline will reinforce its operations with an additional aircraft during the peak season, for a total of sixteen. Spain will be the carrier's biggest market from Stansted with a total of 83 weekly flights, followed by Greece and Turkey.
Jet2.com opened its London STN base on 30 March 2017. In S19, Stansted overtook Leeds Bradford to became Jet2.com's second largest base, behind Manchester. Ryanair is easily Jet2.com's biggest competitor from Stansted, going head-to-head on almost 60% of routes.