New Routes of the Day (31 May 2023): TUI Airways' new routes to Ohrid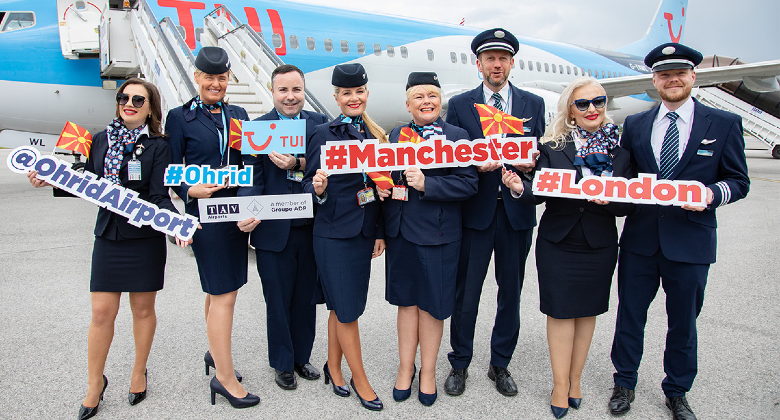 TUI Airways introduced two new routes from the UK to Ohrid in North Macedonia during the last week of May. These include services between London LGW and Ohrid, as well as between Manchester and Ohrid, both of which were inaugurated on Wednesday 31 May. The 1,950-kilometre route from London LGW and the 2,190-kilometre service from Manchester will both run weekly on a seasonal summer basis, until 13 September, with the 737-800 aircraft. The leisure carrier faces no competition on either of the two.
The new additions mark the first time TUI Airways has flown between the UK and North Macedonia, with TUI fly Netherlands maintaining seasonal flights between Amsterdam and Ohrid for several years.
What they said
Chris Logan, Managing Director for TUI - Ski, Lakes & Mountains, said, "North Macedonia has been a less well-known destination for UK holidaymakers, but that is starting to change, and TUI are confident that as soon as our customers return home, word of mouth will spread to friends and family to experience this unique destination for themselves. We will be sending two flights a week to Ohrid Airport for the summer season, from both Manchester and London Gatwick, giving great choice for customers in both the North and South of the UK."
Nejat Kurt, the General Manager of airport operator TAV Macedonia, added: "We are thrilled to announce the launch of new seasonal flights, operated by TUI UK connecting Manchester and London to Ohrid Airport. As TAV, we are excited to welcome passengers on these new routes. These two new destinations from Great Britain will offer enhanced travel options and open opportunities for travellers to explore the breathtaking beauty and rich cultural heritage of picturesque Ohrid."
Ohrid eases reliance on Wizz Air
Ohrid is located in western North Macedonia near the border with Albania and is known for its picturesque Ohrid Lake. A popular holiday destination with Dutch tourists, the airport has been reliant on Wizz Air for a number of years to bring in foreign guests. North Macedonia does not have its own national airline and has provided subsidies to Wizz Air over the past decade to expand its operations, both from the capital Skopje and from Ohrid. However, the ULCC has suspended several routes from Ohrid over the years, forcing the airport operator to attract new airlines. Apart from TUI Airways, Ohrid will see Air Serbia introduce flights from Belgrade on 19 June, while Corendon will commence services from Maastricht on 7 July.
Ohrid Airport was previously linked to the UK through Wizz Air's service between Ohrid and London LTN. Operating for a total of eight years, sometime seasonally and sometime year-round, the route was discontinued in early 2023. Wizz Air still boasts the biggest destination network out of Ohrid, counting five routes during S23.
Ohrid Airport handled 56,069 passengers during the January - April period, which is up 33% on last year, and an increase of 23% on the pre-pandemic 2019. Its busiest year to date was 2022, when it handled just over 232,000 passengers. The construction of a new terminal building at Ohrid Airport is set to begin this year to accommodate the rise in traffic.