New Routes of the Day (31 October 2023): Ryanair's new routes from Tirana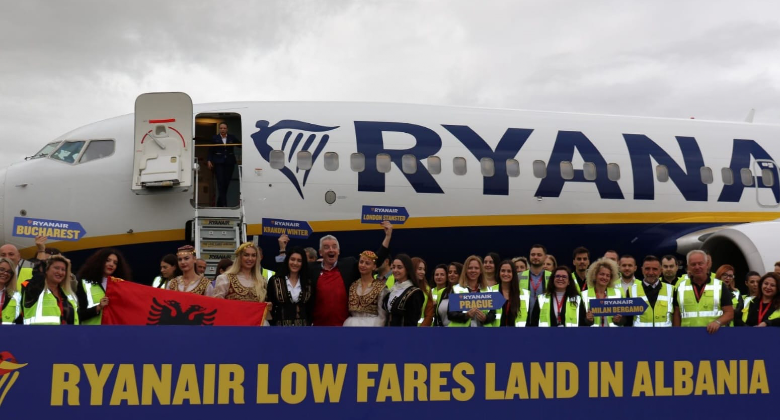 Ryanair introduced flights from Tirana to 17 destinations on Tuesday 31 October, marking its entry onto the Albanian market.
31 October: Bologna (daily)
31 October: Brussels CRL (6-weekly)
31 October: Bucharest (3-weekly)
31 October: Catania (daily)
31 October: Edinburgh (2-weekly)
31 October: Krakow (3-weekly)
31 October: London STN (2-daily)
31 October: Manchester (3-weekly)
31 October: Milan BGY (2-daily)
31 October: Paris BVA (5-weekly)
31 October: Pisa (daily)
31 October: Prague (2-weekly)
31 October: Rome CIA (9-weekly)
31 October: Stockholm ARN (2-weekly)
31 October: Venice TSF (daily)
31 October: Warsaw WMI (3-weekly)
1 November: Weeze (2-weekly)
It should be noted that Ryanair is not opening a base in Tirana, rather, all flights will be maintained by non-based aircraft.
What they said
Michael O'Leary, CEO of Ryanair, said: "The Ryanair low fare revolution has come to Albania. We have started 17 new routes to/from Tirana, and already more than 70% of these seats have been sold for the first month of operations. The scale of Ryanair's winter operation in Tirana with 17 routes, and over 200 weekly frequencies show the extraordinary demand there is for really low fare inbound travel to Albania and among Albanian citizens too. As Europe's No.1 airline, Ryanair believes it can deliver dramatic and sustainable traffic and tourism growth, not just this winter, but for many years to come in Albania. For too long, new route and traffic growth in Albania has been held back by the high fare incumbent airlines such as Lufthansa, Air France, BA and Wizz. Thousands of visitors are coming to Tirana, and we look forward to carrying many thousands of Albanian citizens to/from Europe to visit their friends and relatives."
Ryanair challenges Wizz Air
Ryanair will go head-to-head against Wizz Air, which is Tirana's largest airline, on flights to Bucharest, Brussels CRL, Catania, Krakow (from 18 December), Milan BGY, Paris BVA, Pisa, Prague (from 18 December), and Treviso.
Wizz Air opened a base in Tirana in the summer of 2020 and held 67% of the airport's total monthly capacity up until October. In November, this will come down to 51%, with Ryanair holding a 15% capacity share. Wizz Air has responded to Ryanair by announcing a further 10 new and returning routes from the airport, along with higher frequencies on 12 existing routes. Wizz Air has 11 aircraft based in Tirana.
Albania is Europe's fastest growing market
Albania has emerged as Europe's fastest growing aviation market with passenger numbers at its gateway in the capital of Tirana more than doubling compared to the pre-pandemic 2019. Its Q4 capacity is up 149% on the same period in 2019.
Albania capitalised on the pandemic, leaving its borders open throughout the global health emergency with few restrictions placed on incoming travel-starved visitors. The policy brought this previously undiscovered market into the limelight, with its affordable prices and coastline along the Adriatic and Ionian Seas attracting travellers from across the globe.
Despite being located in central Albania, Tirana serves as a gateway to the coast, with no other commercial airports in the region.