New Routes of the Day (7 August 2021): BA CityFlyer from Southampton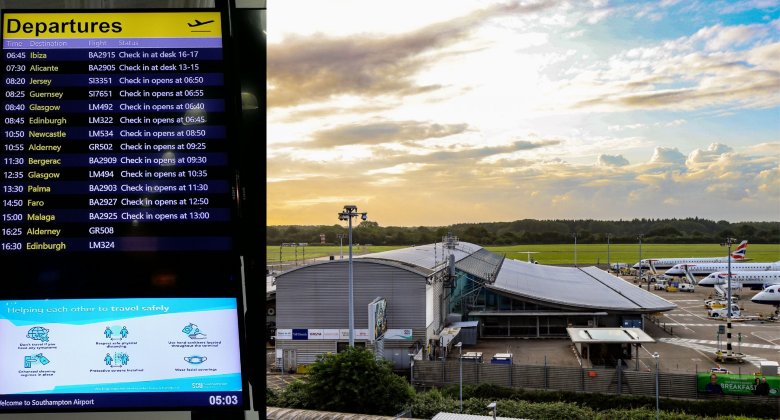 During the week BA CityFlyer operates a range of business focussed routes from London City Airport using Embraer E190s. However, at the weekend these aircraft are relatively idle, so British Airways announced last December that it would start weekend services to 11 destinations from Southampton this summer. The first of these, to Faro, launched on 29 May, followed by Ibiza and Palma de Mallorca on 17 July, and Edinburgh on 18 July. The Edinburgh route is already served by Loganair.
On Saturday 7 August, a further three destinations were added; Alicante, Bergerac and Malaga. The following day saw Berlin and Mykonos flights added, to bring the total number of destinations served by BA CityFlyer from Southampton to nine. Originally, Limoges and Nice in France were also going to be served. However, these new routes have now been put back to summer 2022, probably as a result of extra travel restrictions imposed by the UK government on travellers returning from France. With the exception of Edinburgh, all these new routes appear to be summer-only services. However, the airline has announced plans to serve Chambery in France this winter, a popular airport for ski enthusiasts.
Back in 2019 when Flybe was the dominant carrier in Southampton, it operated flights to six of the nine destinations BA CityFlyer is now serving. The exceptions were Berlin, Ibiza and Mykonos. In total, according to Cirium Data and Analytics schedule information, BA CityFlyer will be operating 14 weekly flights in September from Southampton, six on Saturdays and eight on Sundays. BA's operations will represent around 7% of flights and 11% of seat capacity at Southampton in September. Blue Islands and Loganair both plan to operate around 60 weekly departures with Blue Islands offering the most seats (around 31% of the total) ahead of Loganair and Eastern Airways.
What they said (last December)
Tom Stoddart, Managing Director of BA CityFlyer, which will operate the new services, said: "We are delighted to announce the extension of our services to Southampton Airport next summer. This is an exciting opportunity for the British Airways family. The ideal location of the airport and excellent facilities on offer will hugely benefit our customers along the South Coast as they plan to take to the skies again and book a well-deserved holiday in the sun."
Steve Szalay, Operations Director at Southampton Airport, said: "Today's announcement from British Airways is fantastic news for Southampton Airport and the region during what has been the most challenging of years. It's also great to see BA return to the airport once again and the range of excellent destinations on offer is sure to be a welcome early Christmas present for passengers looking to plan a European holiday next summer."