New Routes of the Day – Americas (10 April 2023): Delta between New York JFK and London LGW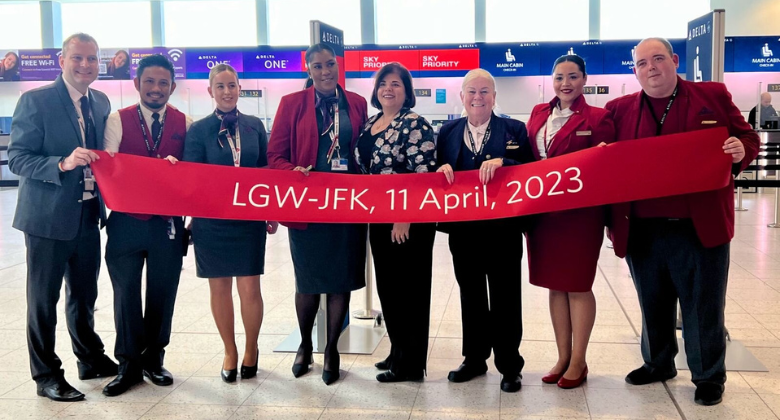 Delta restored flights between New York JFK and London LGW on Monday 10 April following a fifteen-year hiatus. The 5,585-kilometre route will be maintained daily with the 226-seat 767-300. The SkyTeam member faces direct competition from three other airlines, including daily flights by British Airways with its 777, a daily jetBlue service maintained with the A321neo, as well as daily rotations by Norse Atlantic's 787-9.
Flight DL62 departs New York JFK at 23:35 local time, arriving in London LGW at 12:00 local time the following day. The inbound flight, DL63, takes off from Gatwick at 14:10 local time, touching down at JFK at 17:00 local time.
What they said
Nicolas Ferri, Vice President for Europe, Middle East, Africa, and India at Delta, said: "Delta started flying to the UK 45 years ago this month at Gatwick and so it is fitting that we are restarting our operations from Gatwick to the United States. On board, customers will discover an elevated service and special touches to make their journey memorable."
Stewart Wingate, CEO of Gatwick Airport, added: "Delta's return underlines the competitiveness and the operational capabilities of the airport. Delta is a huge name in the transatlantic market and being able to offer passengers across London and the south-east the opportunity to travel with them between Gatwick and New York City is fantastic, providing not only wider choice, but further competition. It also demonstrates the strong pull of Gatwick as an airport for big name, long-haul airlines."
Delta with twelve UK routes this summer
Delta currently maintains eleven routes to the United Kingdom, with another to be introduced next month. In addition to the newly launched London LGW service, the SkyTeam member also serves London LHR from Atlanta, Boston, Detroit, Los Angeles, Minneapolis/St. Paul, New York JFK, Salt Lake City and Seattle. Furthermore, it maintains operations from New York JFK and Boston to Edinburgh. On 25 May it will add a new 5-weekly seasonal service from Atlanta to Edinburgh.
During S23, Delta will be offering a total of 46,190 seats per month on its flights from New York JFK to both London LGW and LHR. Based on figures by the UK Civil Aviation Authority, a total of 271,317 passengers flew between New York JFK and London LGW in 2022.